It's a perfect end to a short drama that has all the elements of what you expect to see in an amazing romantic drama: a ton of heart, a ton of growth, a ton of hot kisses, a ton of heartbreak and a ton of love. The episode brought our leads stories around to a full and complete circle and except for a tiny snafu, Individualist Ms. Ji-Young was a ton of PERFECT.
The Episode in 5:
1. Our neighbours get down to sexy times (wow, I did not see that coming)
Turns out when Ji-Young suggests that Byeok-Soo spends the night, she doesn't mean it in a platonic way (I wonder why the hell I'd thought she did). Of course she's not interested in kissing him though. She'd rather they be practical, i.e. each of them get rid of their clothes themselves and then they can get down to business. The next morning however, she kicks Byeok-Soo out of her apartment. Byeok-Soo isn't fazed (he just had a good night afterall) and Ji-Young spends the time cleaning up trying to convince herself that it was the drugs coupled with her feeling lonely that had led to the event.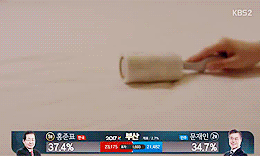 She's not able to quite convince herself fully though, but when morning has her running into Byeok-Soo at the elevator and she notices that he still has on the couple ring he got with Ye-Jin, she's understandably pissed and scoffs that the previous night was just a one night stand and had nothing to do with the beginning of a relationship like Byeok-Soo hopes. Byeok-Soo is confused and pissed at the sudden change and complains to Assistant Manager Choi until the latter points out the couple ring (hehehehehe. He's such a total mess. I love him!). Meanwhile, Ji-Young remembers Byeok-Soo telling her not to be so defensive as sometimes people just want to be friendly with her. Still thinking on his words, she reaches out to her fellow nurses at the hospital and although they're surprised at her uncharacteristic behavior, they all hang out together. When it's only her and Nurse Park left for the night, the latter admits that she was always friendly to Ji-Young not just because she wanted Ji-Young to take over her shift for her. Ji-Young then asks about her daughter and the Santa gift and suggests that Nurse Park let her child believe in Santa for just a little longer. At the words, Nurse Park exclaims that Ji-Young really is nice (she really is!).
2. It's the start of something beautiful (awwwwwwww)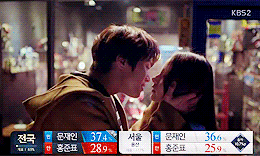 Ji-Young gets back home and overhears Byeok-Soo talking to an older beautiful woman who's agreed for him to move in with her. The sight further depresses her although she reacts in her prickly manner and keeps walking. When Byeok-Soo joins her, curious as to if she's been drinking, she internally wonders if he would ask her if she's been drinking with a man. He doesn't ask her however and that further depresses and frustrates her. The days go by and soon Byeok-Soo's moving out of his apartment. Later that night a grumpy Ji-Young wonders why on earth Byeok-Soo had not told her goodbye and she types out her feelings in her journal. But then Byeok-Soo appears at her door, visibly shaking from the cold as he tells her that he's been waiting to say goodbye to her (awwwwww). He then confesses that his friend kicked him out of the house because she got back together with her boyfriend and so he's going to sleep in the sauna. With that said he leaves but Ji-Young chases after him and suggests they live together. After all, she's on the night shift which means she would only be around during the day when Byeok-Soo himself is at work. She then heads to work where she convinces Nurse Park to switch shifts with her for "personal" reasons. Meanwhile, everything has all been a ploy by Byeok-Soo to get into Ji-Young's apartment: something he'd worked out with Assistant Manager Choi.
The two roommates then settle into a routine that involves leaving leftovers for one another and inhabiting each other's space. Then Ji-Young moves things up a notch and invites Byeok-Soo to eat out with her, and then they go see a movie together (awwwwwww). On their way back home, Byeok-Soo attempts kissing Ji-Young but she bites his lips and pushes him away. He then admits that he'd lied and everything was an elaborate plan to move in with her because although he said he wasn't going to lose himself or his self respect for her, he still likes her. But she keeps pushing him away! He wonders why she let him walk away and then stops his rant when Ji-Young whispers that what if she begged him to stay and he still left anyway? She finally admits that she likes him (awwwwww), something that makes Byeok-Soo smile widely, and then reminds him that she won't change. Byeok-Soo admits that he doesn't want her to change (awwwwww). After finalizing that yes they will both be living together, they kiss.
3. The honeymoon stage kicks off, or as I like to call it, the calm before the storm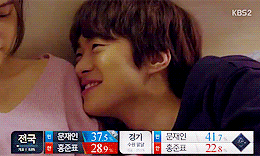 What follows is Ji-Young and Byeok-Soo being a young couple in love. They brush their teeth together, snuggle in bed together, spend the days smiling and in love and being as happy as they can be (awwwww. This is so cute), and even go as far as playing hide and seek in a supermarket.
4. The inevitable break up or as I like to call it, Byeok-Soo has no concept of personal space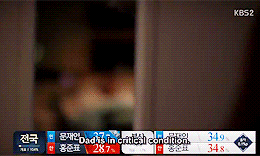 Byeok-Soo's on his way out of the apartment when he accidentally trips over the wires of Ji-Young's laptop. The laptop comes crashing down and he takes it to the shop to have it repaired. When he brings it back home, it's to find that the password to the computer has been disabled. Although he tries restraining himself at first, his curiosity gets the better of him and he reads Ji-Young's diary (seriously dude. What the fuck is the matter with you? That's a big no-no urgh!) where he learns that she ignores her mother's calls and her father's ill, although she believes she won't shed a tear should her father die. He then takes note of Soo-Kyung's name and goes to visit her where he explains that he wants Ji-Young to let him in (dude, that's two layers of boundaries you've crossed. What the fuck is the matter with you?!!). Soo-Kyung suggests that for him to get Ji-Young to trust him, he should be there for her in whatever mood she's in (well don't expect her to trust your ass at this point dude. You've crossed the line). The next morning, a happy and utterly oblivious Ji-Young takes several jars of homemade jam to work and distributes them among her coworkers. However, her happy mood is soured when her mother shows up at the hospital. Ji-Young guesses her mother's there to get money from her again, and when her mother doesn't attempt to deny it, but instead wonders how Ji-Young can cut herself off from her family like that, especially when she knows that without them Ji-Young wouldn't exist (what the?!!!). Ji-Young points out that it would have been better for them all if her parents had never had her. With that she storms off and goes back to ignoring her colleagues at work (she even goes as far as trashing all the jars of tea and jam that she'd given out). Back at home, matters get even more complicated when she switches on her laptop and notices that her password is gone. She flashes back to all the comments Byeok-Soo made that morning and you can visibly see the pieces sliding into place for her. She then receives a text and rushes straight to the hospital where Byeok-Soo is waiting with her mother. Her mother had come in shortly after Ji-Young left demanding to be given her home address, and although Nurse Park had insisted on talking to Ji-Young first before giving her mother her address, Byeok-Soo decided to take matters in his own hand (He just keeps making it all worse doesn't he? Urgh!).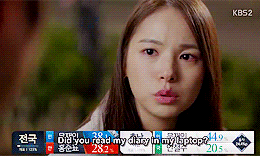 He tells Ji-Young that he'd assumed that she didn't know about her mother and a tearfully angry Ji-Young insists that she's been ignoring her mother all this while and Byeok-Soo had no right to do that. He tries holding on to her and she slaps him (ouch) then enters a cab and heads home. Byeok-Soo joins her almost immediately and when he attempts to hug her, she tells him to get out of her apartment. They then have a sit down in a restaurant away from the house with Byeok-Soo trying to understand why Ji-Young's breaking up with him. She coldly informs him that it's better to cut things off before the relationship starts to hurt and the two ex lovers start throwing barbs about their weaknesses: Ji-Young calls Byeok-Soo immature and Byeok-Soo replies that she's just as immature. She never went to her father's burial, and she makes a big deal out of nothing (dude, reading her diary isn't NOTHING!). The outburst stuns him and he apologizes. But Ji-Young's not willing to listen. She tells him she's never loved anyone (ouch) and that she never believed he loved her in the first place (damn this is heartbreaking to watch). She digs the knife in some more, telling him that she never felt anything for him and that all her feelings were a lie. An angry Byeok-Soo finally rises and tells her not to date or marry or even have kids as it would be unfair to the others. If she wants to be miserable so badly, she should be miserable alone. With that said, Byeok-Soo walks away and although Ji-Young looks sad for a minute, she deletes all Byeok-Soo's pictures on her phone and even deletes his contact from her phone (wow. She's brutal). Next she clears her house of all his knickknacks and even drops the kitten he'd gotten her off at a pet store.
5. The reunion and a beautiful end to a lovely story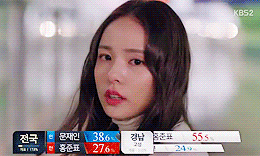 The next morning, whilst attending to one of her patients, Ji-Young stops cold when her patient wonders why she (the patient) was even born, especially when no one even loves her. The words clearly get to Ji-Young who runs to the locker room and tries calling Byeok-Soo. However, she isn't able to reach him and so she begins to cry, and cry even more when Nurse Park enters the room and pulls her into a hug. Next thing we see, Ji-Young's retrieved Bo-Ri (the kitten she dropped off at the pet store) and she meets with Soo-Kyung who she tells the rest of her tale. Back when she'd been younger, her mother's common refrain every time she got into an argument with Ji-Young's father was that she should have aborted Ji-Young (yikes). Ji-Young over time had learned to harden her heart and pull away from others so she wouldn't depend on them and get hurt as a result. But then she'd met Byeok-Soo who makes her genuinely happy and she wishes she could be with him, stay happy with him, build memories with him.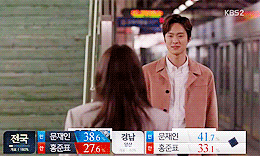 Months go by and Ji-Young visits her father's memorial hall, not because she feels bad or to get an apology from the dead man but to confirm that what she did was right. She's friendlier with her colleagues, has lunch with the patient who'd wondered if she shouldn't have been born and she now rides the bus and even picks up her mother's calls. She also meets Soo-Kyung for her last session and Soo-Kyung suggests she shows her journals to someone else. Someone who had come to confirm that Ji-Young's happier now and is still as pretty. The words has Ji-Young running out of Soo-Kyung's office and she sees Byeok-Soo's back as the latter heads to the train station. She hurries after him and just as she spots him in a train carriage, another train speeds by and he disappears from sight. She runs across the station still looking for his train and is momentarily depressed, until she hears his voice calling her name and she turns around to see Byeok-Soo who smiles his warm smile at her and she runs into his arms (awwwwwww).
Character I wanted to bitchslap: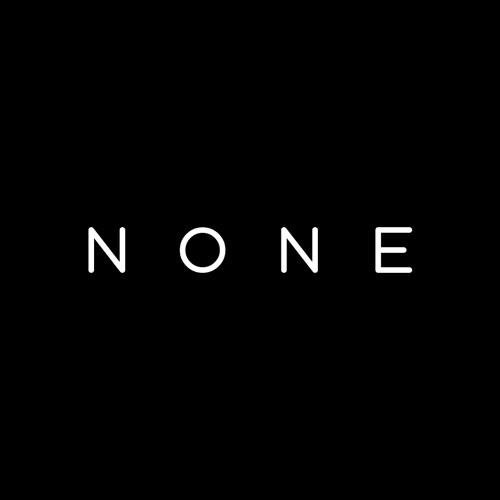 No one in this episode.
Headache inducing moment: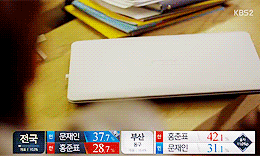 As someone who values her personal space this had me cringing and then sticking my fingers in my hair to pull it out. Seriously, what the hell did Byeok-Soo think he was doing. That is in no way okay. Hell I take issues with reading other people's texts and having other people read my texts and that is just a text. A diary is a deeply personal account with your deepest fears and thoughts. There are married couples who don't read each other's diaries. Children who hate the thought of their parents reading their diaries. And then here comes Byeok-Soo who thinks it's a good idea to read another person's diary without her express approval? Why? Because they're sleeping together? Because she's become more friendly?!!! Because they're dating? Urgh this scene made my blood boil. I repeat this is in no way okay.
Alcohol Rep:
This episode's a Rose Sorbet. Actually this entire drama is a Rose Sorbet. A classic tale of two vastly different individuals who stumble into each other's paths, grow, part ways and then come back together. I love it! I especially love the fact that this drama didn't play on the troupe that Ji-Young changed herself for a man. To be honest, she didn't really change her basic personality. She is still an individualist, just less reserved and more willing to let her tribe and certain people in. And I love how we see her grow. I wish we'd been able to see Byeok-Soo's growth as well but I do have full belief that he's grown and learned and I can close this drama with the warm satisfaction that they will marry, raise a ton of kids and strike a balance in their lives. The only complaint I have is that Byeok-Soo really didn't realize what he did wrong: that reading Ji-Young's diary without her permission was wrong and a violation of her space and her self. The apology he gave her when they broke up was for shouting and not for actually reading her diary and I feel slightly miffed that that issue wasn't resolved completely.
All in all though, I loved this drama. It was sweet and serious and funny and sexy and just the perfect treat. I wish it was longer and yet I'm thrilled that it wasn't so long as I can't even begin to imagine how I would feel because I am sure it's the shortness of it that had the drama moving by crisply without any hanger ons in the middle. Either way, Individualist Ms Ji-Young ranks high for me in the short drama hall of fame, right between Time Turner, Splish Splash Love and Baek Hee Has Returned.