Quick run-through:
Seol finally succeeds in pushing away everyone who matters to him. With no writing, a persistent ghost or an even just as persistent fan, he's left floundering and just the right side of heartbroken. Tae-Min continues to rack up creepy points, and Se-Joo and Jin-Oh reach an agreement that might just push the much anticipated relationship in the right direction.
The Episode in 10:
1. We learn more about Hui-Young's life and get an even bigger inkling into the relationship of our 30's friends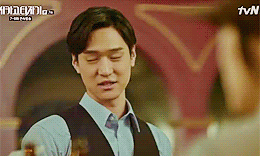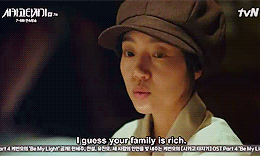 After the celebration of the start of Hui-Young's novel, Su-Hyun's grumpy at the fact that Hui-Young has no plans of publishing the book, especially since she is one of the main protagonists. Hui-Young disagrees. Their bickering is interrupted by Jin-Oh who reminds Su-Hyun about the gunshot wound and asks Hui-Young to treat her, stating that he thinks the wound might be infected. Su-Hyun refuses to let Hui-Young treat her and calls him a quack. She is surprised however when Jin-Oh explains that Hui-Young might not have a medical license but he'd come really close to becoming a doctor but had dropped out because he wanted to pursue a writing career, something his medically inclined family didn't support. After dropping the news, Jin-Oh announces that he has to head to his grandfather's memorial service and hopefully finagle some money out of his relatives. He asks Hui-Young to be sure to treat Su-Hyun's injury and when he gets to his car, expresses his worry that the two of them would kill each other. He is right to be worried as the minute he leaves, the two friends engage on a run around the entire club with  Hui-Young trying to catch Su-Hyun so he can stitch her up. He finally catches up to her and as he sets out on stitching her up, Su-Hyun brings up his family. Hui-Young explains that he's been cut off from his family as they basically consider him a failure due to him not becoming a doctor or attaining success as a writer. Su-Hyun replies that she thinks his writing is phenomenal and that he has the makings of becoming a phenomenal writer. He should hold onto his pen and his blade so he can keep writing and stitching up their friends when they all need stitches, whilst Su-Hyun will use her gun, and these way, they can all play a role in making their country free.
2. Se-Joo has no interest in the past, or at least that's what he's telling himself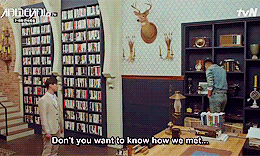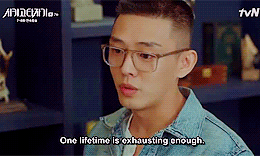 We return to present day as Jin-Oh wonders if Se-Joo's not curious about their past, how he and Jin-Oh became friends, why Su-Hyun had to pretend to be a man and how they all lived their lives in the past. He's pretty emotional as he asks the question but Se-Joo wonders why he should be curious, after all, one lifetime is hard enough, so why should he let his past life be a burden? Besides, remembering isn't going to do anything for him. Jin-Oh, looking heartbroken wonders if Se-Joo can't do it for an old friend, and Se-Joo jadedly points out that betrayal is the other side of the coin for friendships. Jin-Oh marvels at how much Se-Joo has changed and Se-Joo replies that the world they presently live in warrants it. A visibly upset Jin-Oh replies that he should never have sent himself to Se-Joo, something Se-Joo agrees with. Jin-Oh then apologizes and Se-Joo asks him for his real name. Except, Jin-Oh's already disappeared and by the time Se-Joo raises his head, he finds himself alone in his house, something that makes him look sad for a moment.
3. Jin-Oh says his goodbyes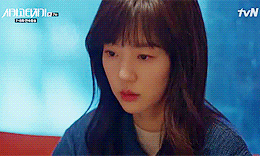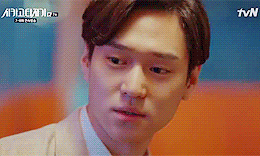 Jin-Oh stops by to say his thanks to Gyun-Woo, who's outside the tent waiting for Seol,  and smiles when the dog licks his hand. Meanwhile, Seol who's inside the tent drinking with Bang-Jin tells her about all the atrocities Se-Joo has committed against her. Bang-Jin the loyal friend immediately declares that Se-Joo's a sociopath. The word though is too harsh for Seol who immediately tries to explain away Se-Joo's behaviour. Bang-Jin who's pressed and wants to use the restroom snaps that Seol should make up her mind if she's a fan or an anti-fan and then runs out of the tent where she runs into Jin-Oh who tells her that he wants to talk to her. He thanks her for being his friend and then starts to tell her that he's a ghost. But Bang-Jin cuts him off and rushes off to use the restroom calling out over her shoulder that Jin-Oh should wait for. Jin-Oh smiles as she leaves and then enters the tent where he cautions Seol to stop drinking as it would hurt her stomach. She puts the soju glass down and Jin-Oh smiles. He agrees with her when Seol wonders aloud exactly why Se-Joo is so distrustful and comments that Se-Joo didn't used to be like that. He then wonders if he would have been better received by Seol if he'd come to her first and she'd been the one to see him. At the words Seol turns to look at him, and Jin-Oh looks stunned at the moment, especially when she smiles and then collapses on him.
4. Se-Joo is doing everything, everything but writing that is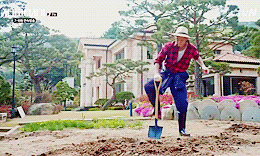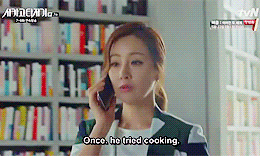 A worried Ji-Seok calls Secretary Kang after a company meeting where his staff members brought up the fact that Se-Joo really might not attend the writing camp. He is baffled when Secretary Kang tells him that Se-Joo has been planting, cooking and building legos: everything but writing. Ji-Seok immediately rushes over to Se-Joo's house where he finds Se-Joo gardening, just as he'd been alerted. At the sight he bursts into tears and wails (hehehehehehe. Ji-Seok's dramatics never fail to make me chuckle).
5. Se-Joo's in a depressed slump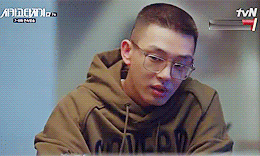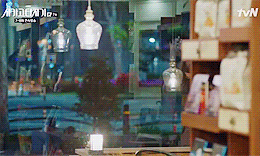 Ji-Seok takes Se-Joo to a bar with hanging books in the ceiling. He hopes the place will spur Se-Joo on to write so he too can have his name immortalized in books. Whilst there, they both take a trip down memory lane to when an eager Ji-Seok had approached Se-Joo with an offer to publish his novel. Se-Joo had initially walked away but Ji-Seok had brought up the rumours that had abound then: that Se-Joo's debut novel was a copycat of Tae-Min's "Fate". The words as expected had pulled Se-Joo to a stop and Ji-Seok had taken the chance to tell him that he had plans to start his own publishing house and that Se-Joo's novel would be the first he would publish and that together, they will both be rich! Se-Joo had laughed, called Ji-Seok cheesy and a lover of money, and asked that Ji-Seok never changed. Back in the present, Ji-Seok wails that he's never changed but Se-Joo's changing on him. Se-Joo confesses that he doesn't find joy in writing anymore. He's also confused about the past and the present as he goes to the vet clinic to look in on Seol, and he thinks to himself that he doesn't know who he's drawn to: Su-Hyun or Seol.
6. Bang-Wool agrees to keep Gyun-Woo, but that concession doesn't last very long, aka, that dog just wouldn't stop barking!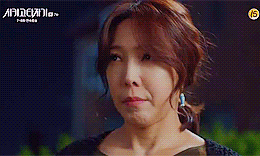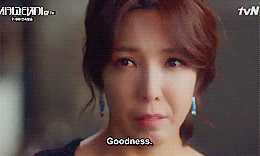 Seol still has no idea where to keep Gyun-Woo. Bang-Jin suggests that she reach out to Tae-Min (please God no!), but Seol replies that it's too late at night, and she doesn't have the sort of relationship with Tae-Min where it would be okay for her to intrude on him. The two friends then decide to take Gyun-Woo home and beg Bang-Wool to allow them keep the dog. Seol promises that talks about dogs like Gyun-Woo being able to keep ghosts away is all a myth anyway with no ounce of truth in them. At the words, Bang-Wool agrees to take the dog and thinks to herself that she's doing it for Bang-Jin who's coming into her Shaman powers. Unfortunately, Gyun-Woo spends the entire night barking, and thus keeps everyone from being able to fall asleep. The result? By the next morning, he's out of the house (awwwww. The poor poor dog).
7. Se-Joo makes things worse, not like we're surprised really. He sucks at apologies and there's a ghost in the works after all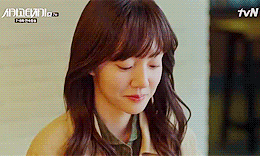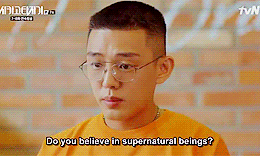 Se-Joo heads out to get some coffee. Unfortunately for him, he runs into Seol who's there to pick up some coffee as a thank you to Tae-Min who's agreed to adopt Gyun-Woo (noooooooo. Keep the dog away from the creep). He immediately tries talking to her but Seol is noticeably cooler and tells him to not speak so casually to her. She's pretty insistent and biting in her tone so much so that Se-Joo starts speaking respectfully to her (hehehehehe. I love this). He asks her to sit with him and then apologizes for his behaviour in a way that makes Seol smile. But Se-Joo can't be Se-Joo without sticking his foot in his mouth and he follows up his apology with an explanation about how he really wasn't to blame. Seol's smile as expected dims, and when Se-Joo admits that the person responsible is a ghost, she is disbelieving. Se-Joo doesn't make matters any easier when he basically calls her stupid and tells her to use her brain and figure out that he couldn't have been the one to tear her bag (seriously, he's so emotionally stunted. Someone stick a sock in his mouth). Seol who's finally had enough orders him to leave the coffee shop. He steps out but sees Gyun-Woo and stops to plead with Jin-Oh to leave the dog and appear before him. It's this hilarious sight that Seol stumbles upon. Se-Joo asks for Seol to give him Gyun-Woo declaring that he will take proper care of the dog. Seol reminds him that he'd told her he's allergic and it's at this point that Tae-Min shows up (urgh! I really can't stand him!) and breaks the news that Se-Joo's never been allergic to dogs (seriously dude. Who asked you?). Seol is visibly upset and Se-Joo immediately promises that Gyun-Woo would lack for nothing and would get the best care possible. Tae-Min probably to get brownie points (and to also push his asshole agenda) graciously suggests that Seol allow Se-Joo to take the dog.
8. Tae-Min continues to be his lying creepy self (jeepers)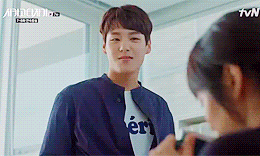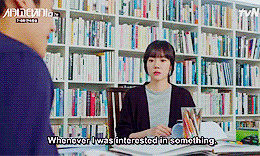 Whilst reviewing Tae-Min's manuscript, Seol looks off into the distance. Ever insecure, Tae-Min immediately concludes that it's because the story is boring. Seol corrects him that she hasn't even finished the story yet. Rather she's distracted by thoughts of Gyun-Woo and wondering if maybe she shouldn't have let Se-Joo take him. Tae-Min replies that Se-Joo would have found a way to take the dog anyway, as Se-Joo's always wanted anything that Tae-Min was interested in (yup, I just puked in my mouth. Lying scum!). Seol then asks if it's true that Tae-Min and Se-Joo used to live in the same house; matter of fact, she heard that there were rumours that they're brothers. Tae-Min then asks his own question: what is Seol's relationship with Se-Joo? Is she his lover? His ghostwriter? Or his fan. She admits that she's his fan but something in the way he asked the question has her looking visibly shaken.
9. Se-Joo finally agrees to complete writing the novel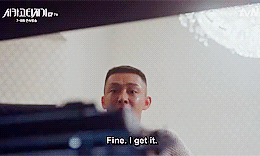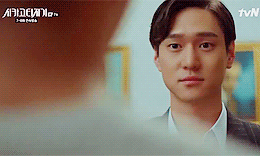 Se-Joo takes Gyun-Woo back home and with a serious face informs Secretary Kang that he's going to have a "talk" with the dog. Except, by the time he gets to his writing room, Gyun-Woo just looks back at him, tongue lolling and he realizes that Gyun-Woo's just a dog and there's no ghost presently inhabiting him (hahahahahahaha). He then sets out to build a dog house for Gyun-Woo-something that Secretary Kang fills Ji-Seok in on-and as he works, he flashes back to the nearly parallel statements that Su-Hyun and Seol have made about him being a phenomenal writer and their hope that he keeps writing. He keeps coming back to his flashback of Su-Hyun telling him that she hopes he finishes writing his novel, no matter when he finally finishes it. Back in the house, he mutters that he'd thought that he would be happy if he stopped writing. Unfortunately, that hasn't been the case. He walks over to the typewriter and demands that Jin-Oh come out and be accountable for turning his entire life into a mess. When that still doesn't bring out the ghost, he cries out that fine, they will write together, he will write the novel! Immediately he says the words, lights flicker out. He turns around and sure enough there's Jin-Oh in the room. The lights come back on and a delighted Jin-Oh asks if Se-Joo's really going to write the novel. Se-Joo replies that he never goes back on his word. Jin-Oh then wonders if this means Se-Joo's interested in his past life. Se-Joo replies that he isn't. He's merely agreeing to this because he hopes that after writing the story his life would return to its previous calm, and that he will also be able to figure out exactly who stirs him. The word intrigues Jin-Oh although he doesn't say anything about it. Instead he offers Se-Joo a condition for their collaboration.
10. Tae-Min levels up on his creepiness. Thankfully Se-Joo's there to save the day (not like Seol can't burst a bullet in Tae-Min's ass if she so pleased)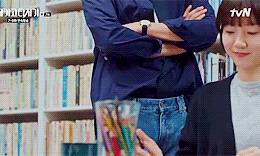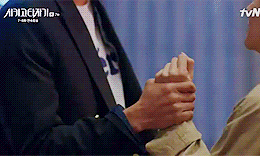 Seol wakes up with a yawn and she's startled when in stretching her arms, she bumps into Tae-Min who's standing behind her (and being creepy af. Seriously this guy!). He apologizes for startling her and she admits that she's been feeling pretty defensive of late. Tae-Min then pulls out an invite to the writer's camp and offers it to her. Seol admits that she'd applied but it had been a pretty competitive spot and she hadn't been able to get in. Tae-Min immediately guesses that she applied for Se-Joo's camp (well duh!), but insists that she keep the invite and think about it. He then offers to take her home but Seol tells him not to bother as it would be faster if she went by bus. He gets a look in his eye after she leaves and mutters to himself that he doesn't like how defensive she is. Seol meanwhile makes it to the bus-stop and searches for her umbrella, and then out pops Tae-Min with an umbrella in hand as he insists that he wants to take her home. Once again, Seol turns him down and when she makes to walk into the street, she's almost hit by a passing bike and is pulled to safety by Tae-Min who then proceeds to tighten his hold on her hand even when Seol tells him to let her go. Thankfully, Se-Joo shows up as her knight in scowling armor, who grabs Seol's hands from Tae-Min and glares at him. As he glares, we hear that the condition Jin-Oh had given him had been to get rid of all the men hanging around Seol. Tae-Min glares right back and asks Se-Joo what Se-Joo thinks he's doing and Se-Joo replies that he's doing what he'd promised: keeping Tae-Min from taking anything that belongs to him. With that said, he walks away whilst Jin-Oh claps at the save and Seol looks down at their clasped hands, all the whilst a happy Se-Joo smiles.
Character I wanted to bitchslap: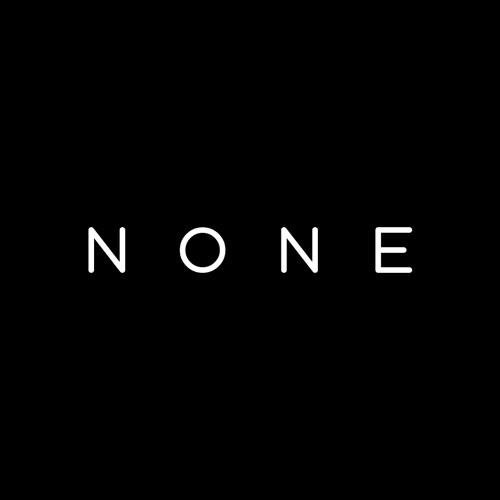 No one in this episode.
Headache inducing moment: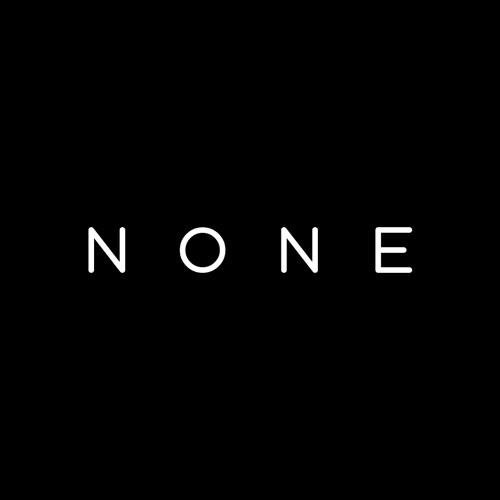 None in this episode.
Alcohol Rep:
This episode's a Mary Pickford: a perfect blend of heart and humour whilst humanizing our lead, doling out a ton of the creepy (looking at you there Tae-Min) and showing us heartbreak on both the parts of Jin-Oh and Seol, and finally Se-Joo when he realizes that the ghost that had always annoyed him had left him, and the ardent fan he'd never really appreciated had turned into an anti-fan. I find it very interesting that both Jin-Oh and Seol had to go through that heartache courtesy of Se-Joo and that the two of them were at the root of Se-Joo's own heartache by the time it finally hit. It went far to prove just how interconnected the three of them are and how deep their relationship goes. It also raises the question which Se-Joo logically wondered to himself. Is that feeling something born purely of their present selves, or does it still tie back irrevocably to their past selves. Whichever way it turns out, I'm more than ready for the three of them to become friends in this present age, and although I'm eagerly looking forward to when Seol would either see Jin-Oh, or when Bang-Jin would point out Jin-Oh hanging around Se-Joo thus giving someone else the chance to see what Se-Joo sees without them writing him off as being crazy, I'm still in love with all the confusion and misunderstanding that Jin-Oh's bringing in his wake. I love this whole dynamic of their friendship, their past lives and how intertwined everything is, that I'm kind of angsty that we have to deal with creepy Tae-Min. Hell, I wouldn't be surprised if it turns out that he too was in their past lives and he maybe was the one that indirectly or directly led to their death because urgh, present day Tae-Min creeps me out and I just want both Se-Joo, Seol and Gyun-Woo far away from him. Bonus point if they give cat Seol to someone else as well. All that jealousy and envy does not a pleasant pet owner make!