Quick run-through:
Seol-Woo continues to be confused about Un-Gwang and Do-Ha, although he's learning how to push the former's buttons and the latter still has him in the dark. The race for the wood carvings is on, but with all the machinations going on underneath, we realize that it's not really about the wood carvings, but who comes out on top at the end of it all.
The Episode in 10:
1. Seol-Woo's brutally efficient as always, and just a tad bit cold (not like that surprises us, really)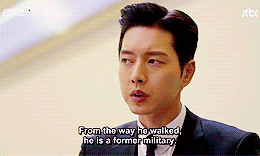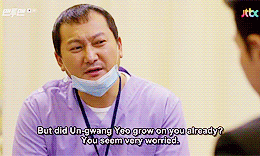 Thankfully, Seol-Woo brakes hard enough and is able to stop the momentum of Un-Gwang's car before the car can plunge them off the broken road (I still don't get the physics of how him braking stopped the accident, but I'll roll with it). He then breaks the windscreen and goes to check on Un-Gwang who's unconscious but alive. Moments later, an ambulance shows up to take them to the hospital. Do-Ha is as expected quite worried, and Se-Hoon wonders how on earth two such accidents can happen to Un-Gwang. When Do-Ha almost collapses, Seol-Woo sweeps her up in his arms and takes her to an available hospital bed where she's soon seen to. Even as she wonders if he's okay, seeing that he got more of the brunt of the accident, Dong-Hyun shows up, disguised as a nurse. Whilst he treats himself, Seol-Woo briefs Dong-Hyun on his suspicions that the accident was planned. Dong-Hyun promises to look into it and then wonders if Un-Gwang's growing on Seol-Woo. Seol-Woo replies that he doesn't care if Un-Gwang lives or dies. He just needs him alive long enough to get those wood carvings (damn that's cold).
2. Do-Ha changes her tune and Seol-Woo gets to keep his job. 
Seung-Jae shares the news of Un-Gwang's accident with Mi-Eun. Thankfully, she's unflinching as she airily replies that if he's still recovering by the time their movie is ready to shoot, she'll have him replaced with another action star. This is of course all a front for Seung-Jae as the minute she's alone, she reads Se-Hoon's text informing her that Un-Gwang's regained consciousness. She immediately calls him back and tells him she already spoke to the doctors and is sure that Un-Gwang will get the absolute best treatment. Meanwhile, Un-Gwang's stuck in a nightmare of when he'd had his first accident and woke up to news of Mi-Eun's engagement to Seung-Jae. He'd called her on her wedding day and she'd calmly replied that their relationship was over. He cries in his sleep which Seol-Woo notices. Do-Ha joins him shortly after and is happy to see Un-Gwang well and resting. She compares his face to that of a sleeping baby and just as Seol-Woo rolls his eyes, Jung-Hye and Sul-Ah show up. Apparently, Eun-Soo's come to visit Un-Gwang. Do-Ha however won't let her in as that's the scoop the reporters are looking for to confirm the dating rumours. Eun-Soo replies that she's broken up with Un-Gwang and that they have Seol-Woo to thank for it. Do-Ha finally realizes that that's the reason for Eun-Soo's meeting with Seol-Woo. Eun-Soo then offers Seol-Woo a job as her bodyguard but Do-Ha declares that Seol-Woo's family and he isn't one to take such offers (hahahahahaha. Talk about an about face). She then requests to meet with Seol-Woo, and when they're alone, apologizes for the misunderstanding and tells him that he can have his job back. When this doesn't get her a reaction, she tells him of how she'd first met Un-Gwang. It was back when Un-Gwang was still in the hospital and dealing with his heartbreak and she was mourning her grandfather. She'd told Un-Gwang about her grandfather's belief that people who are loved never really die, and had urged him to live life to the fullest. Back in the present, Seol-Woo drolly replies that remembering people can't bring them back to life. They stay dead (hahahahahahahaha). Do-Ha wonders if he's even human and places a hand on his chest. Although he's somewhat affected, Seol-Woo pulls her hand away and rises. When Do-Ha points out that he's most likely never had a girlfriend, Seol-Woo says nothing and just continues walking.
3. Seol-Woo gets more than he bargained for in saving Un-Gwang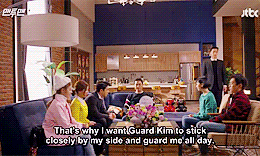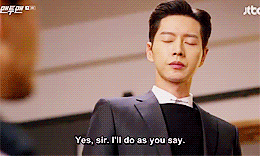 After having a quiet moment with Do-Ha where he chides her to never put herself in danger again as he needs her to stay by his side for a long while (awwwwwww), Un-Gwang returns home. At the meeting with his staff, he praises Seol-Woo for saving his life and declares that he now knows that the most important thing is one's safety. Which is why he wants Seol-Woo to guard him 24-7 (hahahahahahahaha. Seol-Woo's face at this line is just the best). Un-Gwang of course adds that Seol-Woo would be well compensated, and when the offer is made to Seol-Woo, he agrees, even as he silently tells himself that he's screwed (oh Seol-Woo. You have no idea. Hehehehehehe).
4. The things Seol-Woo would do in order to get Un-Gwang to that damn Russian party (hahahahahahahahahaha)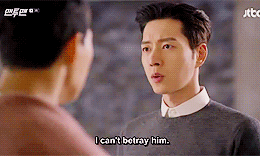 Un-Gwang, riding off the high of his accident decides to milk the situation to the best of his ability. He cancels his shoots and advertisements, and one more thing that falls by the wayside is the planned trip to Victor's party that Seol-Woo's been looking forward to attending. He's well aware that Un-Gwang's faking the extent of his injuries but he can't do anything about it. It's this thought that drives him when Un-Gwang wants to rehearse one of his scenes and asks that Seol-Woo acts out the female lead part. Seol-Woo at first refuses but when Un-Gwang whines about not rehearsing and thus not taking on any roles soon, Seol-Woo immediately jumps on it. Except, he's brimming with so much emotions and acts out the part so well that even Do-Ha is impressed (to be fair, so am I!). However even after the scene ends, he's still teary eyed (hahahahahaha. Did they break the robotic ghost?), and only stops when Un-Gwang gets a delivery. The delivery man is Dong-Hyun who's come with bad news: the Russians can't touch Victor, the Russian Billionaire so Seol-Woo would have to find a way to convince Un-Gwang to go for the party. He also brought Seol-Woo some necessities and a change of underwear which Seol-Woo accepts and stalks back into the house where he overhears Do-Ha's conversation with her swindler father who has a knack for constantly getting himself thrown in jail.
5. Do-Ha gives Seol-Woo the knowledge he needs to achieve his goal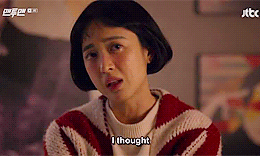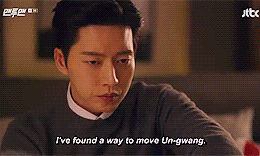 Hearing from her father sends Do-Ha on a drinking binge and she explains to both Jung-Hye and Sang-Sik that back when her grandfather died, her father had been in jail and the creditors had come to harass her at her grandfather's burial. It was during that time in her life that she met Un-Gwang. At the thought of Un-Gwang, Do-Ha drunkenly heads home and goes straight to Seol-Woo's room. Although Seol-Woo bolts the door, she picks the lock and then falls backwards on the bed, landing hard on Seol-Woo who in her drunken state, she mistakes for a pillow. Seol-Woo tries pushing her off of him but then she sits up straight, stares at the life sized picture of Un-Gwang that's hanging on the wall and admits that it was Un-Gwang who saved her life when they met, as she can't imagine what she would have done otherwise. She continues that she'd even thought she was the one who gave him the strength to go through physical therapy and had no idea that it was her (most likely Mi-Eun) that had been the driving force behind Un-Gwang's recovery. After Do-Ha falls asleep, Seol-Woo thinks to himself that he's found the key he needs to move Un-Gwang: Mi-Eun.
6. Seol-Woo and Un-Gwang have a heart to heart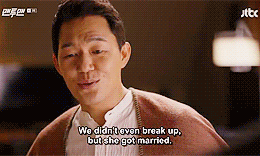 With Do-Ha asleep in his bed and his mind made up, Seol-Woo steps out of the room and runs into Un-Gwang who admits that Do-Ha likes sleeping in that room when she's drunk. Seol-Woo suggests they have some chicken and beer and Un-Gwang eagerly agrees. Whilst they talk, Un-Gwang mentions that he's sure Seol-Woo thinks him pathetic. He brings up his first accident and admits that he almost lost his leg, and physical therapy had been hell. Seol-Woo points out that he made it through and Un-Gwang brings up Mi-Eun and how much he'd loved her. But she'd abandoned him on the day of his accident and married Seung-Jae shortly after even though she and Un-Gwang hadn't really broken up at the time. Seol-Woo then replies that truthfully, he'd been sent by Mi-Eun and it was Mi-Eun who had him make Un-Gwang his top priority. He continues that he's sure Mi-Eun would want Un-Gwang to work, and he's just as sure that Un-Gwang doesn't want to be anyone's puppet. In the silence that follows, Seol-Woo thinks to himself that what saves a man isn't hope, faith or love. Rather, it's hatred and rage, and the person who's at the root of those two emotions for Un-Gwang is Mi-Eun who Seol-Woo's certain, would be the one to save him. And sure enough, by the next morning, Un-Gwang dresses up and heads out to Chewing Entertainment, the company that manages his career. He outrightly asks Se-Hoon if truly Mi-Eun's the largest shareholder in the company. When Se-Hoon admits that she is, Un-Gwang breaks his contract with the company and walks away. Seol-Woo who witnesses the whole thing smiles, and his smile is justified because next up on the agenda is Victor's birthday party.
7. Seol-Woo continues to luck out with Do-Ha (really though, why does he even keep trying? Hehehehehehehehe)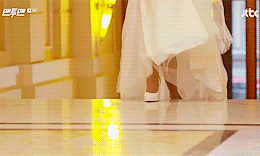 It's the day of the party and Dong-Hyun shows up to give Seol-Woo a coin. Just as he walks away, Seol-Woo spots Do-Ha walking into the room, looking glamoured up and very pretty (Woah. What a transformation). He's clearly taken aback and when he compliments her that she looks pretty, she blushes. The moment though is interrupted by Un-Gwang who comments that he and Seol-Woo look good. Do-Ha's face falls, but then she perks up when Un-Gwang asks where Do-Ha is, seeing that all he can see is Seol-Woo and a beautiful woman (hahahahaha. We have to admit it, the guy's got skills). Do-Ha giggles and floats on cloud nine as Un-Gwang oohs and aahs over her transformation and leads her away with his hand holding hers, leaving Seol-Woo behind to huff and roll his eyes as he mutters that Do-Ha's a sucker for compliments (hehehehehe. That she most certainly is!).
8. Seol-Woo gets in although In-Soo might be right behind him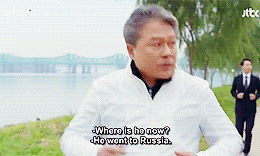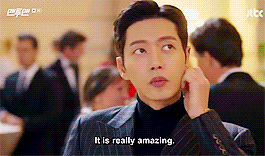 Ki-Chul meets with In-Soo whilst the latter is on his morning jog and tells him that they might have located the wood carvings, thanks to news that Dong-Hyun's travelled to Russia. Back in Russia, Seol-Woo steps through the metal detector stationed at the door to the party and the detector goes off. He's searched but all that turns up is the coin that Dong-Hyun gave him. The security agents let him in, but when Seol-Woo gets in, he disbands the coin to reveal that it is a spying device after all, thus giving Dong-Hyun who's stationed nearby both the audio and visual needed for Dong-Hyun to become Seol-Woo's eyes and ears.
9. Un-Gwang and Mi-Eun have a chat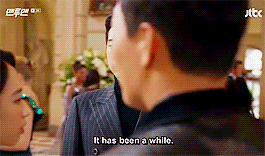 Even as Un-Gwang and Do-Ha are exclaiming over the suave location, Seung-Jae and Mi-Eun step up to them, the two having been invited to Victor's birthday as well. Seung-Jae expresses false concern about Un-Gwang's accident and Un-Gwang informs Mi-Eun that he's leaving Chewing Entertainment because he found out that she's their largest shareholder. After he walks away, Seung-Jae asks Mi-Eun if she's okay and she feigns that she's unbothered about the encounter. Meanwhile, back in Korea, Ki-Chul expresses his suspicions that Victor, the Russian billionaire has one of the wood carvings. In-Soo tells him to wait it out and acquire the carvings after the agency brings it back into Korea. And that he should bring it straight to him as he's tired of having to bow down to Seung-Jae (interesting). We then cut back to Russia where Victor expresses his thanks and admiration of Un-Gwang. After Victor's welcome to Un-Gwang, Seung-Jae pulls Victor aside so they can talk about a Siberian oil deal and Mi-Eun uses the opportunity to approach Un-Gwang who she tries convincing to not leave Chewing Entertainment. Un-Gwang however is unwilling to listen to anything she has to say and basically tells her to stay away from him as he's no longer her concern. He walks away, with Seol-Woo in tow and Mi-Eun looks heartbroken. She is also totally unaware that Seung-Jae witnessed the entire interaction (this is not going to be good).
10. Un-Gwang throws a wrench in the works
Just like they'd planned, Seol-Woo walks with Un-Gwang to go meet Victor at the entrance to his secret room. Victor, being a huge fan of Dark Death is eager to show Un-Gwang his treasures and Seol-Woo who's figured that after he's left alone, he would have sufficient time to disable the security system in the mansion is eager to leave Un-Gwang to the treasure watching. Except, Un-Gwang turns around and insists that Seol-Woo is more than just his bodyguard, he's his brother and soulmate (hahahahahahahaha) and Un-Gwang needs him to enter the room with him. And because Victor's a huge fan, he makes the concession, causing a disgruntled Seol-Woo to enter the room together with them. As he looks around the room, Dong-Hyun squawks in his ear about the fact that they don't have time, and if Seol-Woo loses this opportunity, they would only have a minute to get into the room and steal the wood carving, something that would definitely be impossible to pull off. Seol-Woo who stares around the room simply replies that they'll move on to Plan B.
Characters I wanted to bitchslap: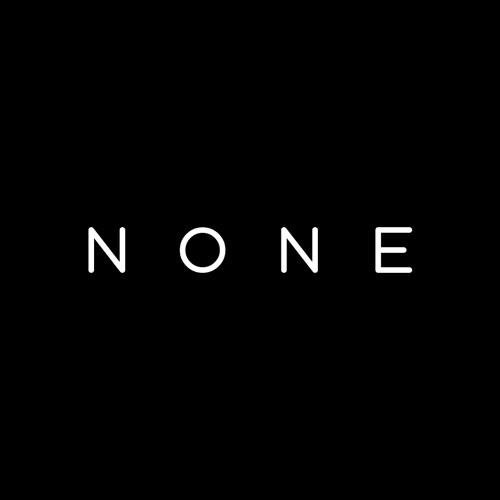 No one in this episode.
Headache inducing moment: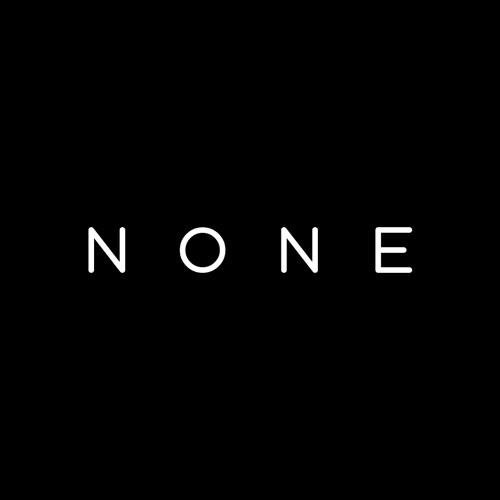 None in this episode.
Alcohol Rep:
This episode's a Frozy Navel, light and sweet with those burst of moments that have you laughing at the hilarious expressions Seol-Woo manages to pull off, especially because more often than not, his incredulous expressions perfectly match ours. Who would have thought that we would be able to relate so much with the ghost agent who doesn't even have a real name? Hehehehehehehe. Park Hae-Jin shines in his performance as Seol-Woo and his deadpan expressions are such a perfect foil for the man-child Un-Gwang and Do-Ha. I love how the latter two keep getting depth added to them: one's had his heart broken and you can see that his playful personality and the desire not to take life seriously is all a cover to mask his hurt, and the other has suffered so much, it's only understandable that she will be obsessively attached to the man who saved her life. I definitely love the direction the story is telling and I look forward to Seol-Woo eventually reaching bromance levels with Un-Gwang. I'm still trying to wrap my head around his relationship with Do-Ha but the one thing I can say is, we're just like Seol-Woo, confused about his interaction with the strange woman (hehehehehehe). Honestly I'm not surprised to see that Eun-Mi did marry Seung-Jae to 'protect' Un-Gwang, but I'm curious as to what else she's protecting, even as I'm curious about the upcoming power tussle that would soon rise between In-Soo and Seung-Jae. Nothing gives me greater joy than the thought of two villains going after each other (a reason why I loved the end of Master: God of Noodles), and with these twos smarts and the ghost killers they have on their sides, it's going to be a match worth watching.