Quick run-through:
Things continue to spiral out of control for Se-Joo, but in the unravelling, we learn more truths. Unfortunately, what is entertaining for us and enlightening in the same vein, proves heartbreaking for a fan who'd walked away from her favourite author and came back to him. And as things continue to escalate, we spend the hour wishing that Seol had the gift and could see the ghost. But then if she did, we wouldn't have the drama we're watching now could we? And that would have been the true heartbreak.
The Episode in 10:
1. Se-Joo does what any normal person would do after being confronted by a ghost: faints and screams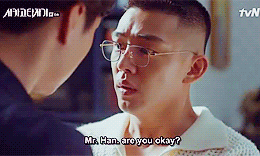 After Jin-Oh explains that he's a ghost who's been residing in the typewriter, Se-Joo flashes back to the myriad of instances that should have given him a clue: how Jin-Oh can easily enter his apartment, Jin-Oh's cryptic words that he fell in love when he first spotted Seol at the airport and him saying that he sent himself to Se-Joo. Overwhelmed by it all, he faints (hahahahaha. That is the one thing he's done that I've related to since the show began). When he comes to, he screams upon seeing Jin-Oh's face. But no matter where he runs, Jin-Oh pops up all smiling and wanting to talk to his human friend (hahahahaha. I love this Jin-Oh. He's adorable!!!!). When they finally get to sit down together to talk, Jin-Oh admits that Se-Joo hadn't always been able to see him. And so he was surprised on the night he'd been typing (back when Se-Joo returned from his almost accident and Seol rescuing him) and Se-Joo had seen him. He'd been even more surprised when the next day, Se-Joo had seen him again. A distressed Se-Joo switches to Jondae and even Jin-Oh laughing and stating that Se-Joo should feel free enough to address him as he pleases isn't enough to get Se-Joo to talk casually. Se-Joo then asks if his being able to see Jin-Oh means he is now a conduit for ghostly energy. Jin-Oh says he doesn't think so. Matter of fact, he's curious as to HOW and WHY Se-Joo can see him. Se-Joo then asks if he's the only one who can see Jin-Oh and Jin-Oh replies that there's one more person who can see him. As expected the person who can see him is Bang-Jin who Bang-Wool discovers to her horror can actually see ghosts (hahahahahaha. Something tells me she will be wishing her daughter became a writer instead).
2. Jin-Oh wants to confess his feelings to Seol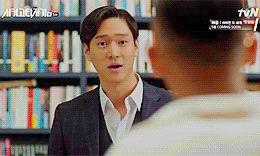 Se-Joo asks that Jin-Oh leave his house but Jin-Oh begs him to help him become visible to others. When Se-Joo asks him why he wants to become visible, a blushing Jin-Oh replies that he wants to be able to confess his feelings to Seol. He reminds Se-Joo that he'd told him that he fell in love with Seol at first sight. The words hit Se-Joo hard. Meanwhile the woman they're talking about is at the moment reading a novel and rewatching the press conference where Se-Joo begged people to stop harassing Seol (interestingly enough Seol doesn't see ghost Jin-Oh sitting beside him). She suddenly runs over to Dae-Han who makes her a lunchbox thinking it's for her. Seol merely thanks him, admits that the box is for Se-Joo and skips off (hahahahahaha. Poor Dae-Han). Back at Se-Joo's house, Jin-Oh informs Se-Joo that there are quite a lot of men on Seol's case and he hopes to show himself to her early enough before it's too late. Se-Joo scoffs at the thought of there being a lot of men interested in Seol and asks if Jin-Oh's ever showed himself to Seol. Jin-Oh admits that he hasn't because he doesn't want to get heartbroken at Seol not seeing him. He then curiously asks if Se-Joo's interested in Seol and Se-Joo scoffs (yeah right) and replies that there are three things he doesn't need in his life: a ghostwriter, a woman and a good-for-nothing ghost. Jin-Oh's hurt at that (awwwwww), but then Se-Joo barks that he should leave his house otherwise he would call an exorcist.
3. Jin-Oh's the most adorable ghost over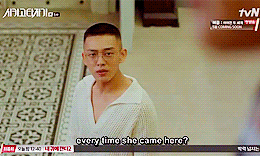 Just as Jin-Oh makes to react to the exorcist threat, the doorbell rings: Seol's come bearing gifts and even as Se-Joo refuses to let her into the house (hehehehehehe. He doesn't want her running into Jin-Oh and accidentally seeing him and falling for him, most likely), Jin-Oh uses his powers to open the door and let Seol in. Se-Joo glares that Jin-Oh's been the one who's been opening the door for Seol all this while and Jin-Oh shrugs and replies that Se-Joo's always mean to Seol is why he's been doing so (Gah! He's so cute!). The minute Seol appears however, he disappears and then reappears in front of Seol, waving his hands in her face as he tries to get her to see him (Goddamn he's cute. Hehehehehe). Se-Joo barks him to stop doing that, and startles Seol who thinks he's talking to her. Meanwhile a depressed Jin-Oh hangs his head and walks away, muttering about Seol not seeing him (he's just too adorable I swear. Hehehehehehe).
4. Everyone has their breaking point, even Seol
Jin-Oh skids back in however when Se-Joo asks what brought Seol over and Seol admits that she brought him a packaged meal. Jin-Oh eagerly tells Se-Joo to invite Seol in, and Se-Joo grits out at him that he should get lost. However because Seol can't see Jin-Oh, she assumes that Se-Joo's talking to her. Se-Joo tries backtracking, however their conversation after Seol lays out the food goes in the same vein: Jin-Oh makes a comment, Se-Joo barks at him and Seol assumes that he's talking to her. Seol finally gets to the reason for her visit: she thanks Se-Joo for his press conference, for bowing down to people to plead with them so they would stop harassing her (hehehehehehe. Se-Joo keeps blushing at the praise and Jin-Oh alternates between staring dreamily at Seol and smiling at a blushing Se-Joo). She then brings out a book to read a passage from it out to Se-Joo, and Jin-Oh comments on her beautiful heart. Se-Joo tells him to shut it. A startled Seol attempts leaving the book so Se-Joo can read it later and Se-Joo suggests that she leaves as he's feeling tired. Jin-Oh however complains about Se-Joo sending Seol away and Se-Joo snaps at his busybody ways and tells him to get out. Seol who thinks he's talking to her runs out of the house and in trying to get her to stop, Se-Joo and Jin-Oh grab at her bag which ends up tearing her bag. She runs out and Se-Joo runs after her. By the time he turns her around, he's stunned to see her crying. Seol admits that she's always made excuses for him but she too has her limit. That a person is in love with you doesn't mean you should stomp on the person's pride. She admits that she loves his writing but doesn't like him as a person. With that said, she stalks off and Se-Joo runs back into the house looking for Jin-Oh who's disappeared. He threatens to break the typewriter but that's not enough to get Jin-Oh to reveal himself. He finally notices Eugene's picture and the darting eyes which he never can catch in the act. When he finally feigns a look away and then quickly glances back at the painting, he finds the painting smirking. At the sight, he faints.
5. Word around town is that Se-Joo's lost his mind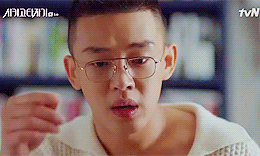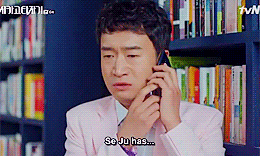 Se-Joo wakes up to find himself sleeping in his bed, and his house staff earnestly apologizing for not noticing the strain he's been under, even as they promise to make sure to do better by him. Even as they speak, Ji-Seok comes running in delighted that Se-Joo's seeming "breakdown" has brought in its wake, good publicity. He's eager for them to move on, and becomes alarmed when Se-Joo replies that he's not continuing with the serial novel anymore. He tries to get Se-Joo to change his mind but Se-Joo admits that he had been telling the truth about his ghostwriter. The only problem is that it's an actual ghost. Ji-Seok excuses himself and when he does so, Se-Joo grabs his Eugene painting and shakes it hard. demanding that Jin-Oh show himself. Ji-Seok who sees this immediately calls Se-Joo's doctor and cries that Se-Joo's gone crazy. This leads to Se-Joo meeting with his doctor who believes that Se-Joo's quit writing because of his abandonment issues and him not wanting to be rejected by his writers. Se-Joo scoffs at this assessment but then the doctor probes deeper. Does he still have nightmares? Nightmares of someone rescuing him from a cliff only to let him crash right back to the ground. As his doctor says this, we flashback to when Se-Joo had been abandoned as a child and Do-Ha had rescued him underneath claims of being friends with Se-Joo's father. Se-Joo had been delighted at his newly found family, until So-Hee had approached him with a sharp smile and instructed him to live like a ghost as he's her family's disgrace (What the?!!!) and no one must find out about him. We then return to the present where the doctor asks if Se-Joo can still see the "ghost". Se-Joo whilst staring at Jin-Oh lies that he can't.
6. Jin-Oh confirms that the novel he's writing is Se-Joo's novel from 80 years prior (I knew it!!!!)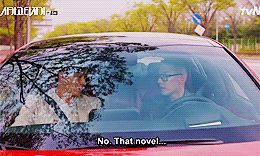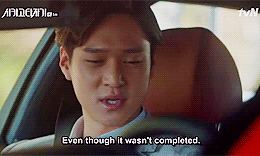 Back in the car, Jin-Oh tries talking to Se-Joo but Se-Joo tunes him out, insisting that it's all an illusion. Jin-Oh however is persistent in asking Se-Joo to complete the novel which makes Se-Joo wail some more about how he wants to atone for what he's done, but he can't because Jin-Oh's a ghost and everyone believes Se-Joo's just crazy. Jin-Oh replies that Se-Joo doesn't have any reason to atone as the story he's writing is actually Se-Joo's story from 80 years prior. He explains that in their past life, they were both friends and writers and Se-Joo wrote about their glorious time together. Unfortunately, he was never able to finish the story. Se-Joo finds the entire situation ludicrous and barks at Jin-Oh to leave the car. Surprisingly enough, Jin-Oh does just that.
7. Tae-Min definitely wins the award for the most creepy, lying, conniving writer ever!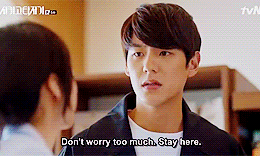 Tae-Min brings cat Seol to the vet clinic and lies about how she got her injuries. After the vets take her into surgery, his face settles down into a cold mask (the guy gives me the creeps!). After the surgery, Tae-Min treats the vets to snacks and then invites Seol to a workroom which he claims is where they will work together. Seol is confused and even more so when Tae-Min tells her that they'd spoken about her being his writing assistant. Seol comments that she'd been drunk and states that she'd thought she'd rejected his offer. Lying Tae-Min doesn't say anything in response. He offers her coffee and whilst they drink, Seol insists that she really thinks she rejected his offer. Tae-Min smiles and admits that she did, but this is his chance to convince her to change her mind. Seol insists that she doesn't want to be a writer but Tae-Min clarifies that he doesn't want her to be his ghostwriter. He just wants her as an editor. He makes such a good case for himself that Seol eventually agrees, and then is delighted when she gets an autographed copy of Tae-Min's fate, complete with a message (noooooooo. Stay away from him Seol. He's a creeeeeeeeep).
8. The power play between Se-Joo and Tae-min kicks off with Seol and dog Gyun-Woo as the prize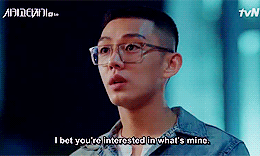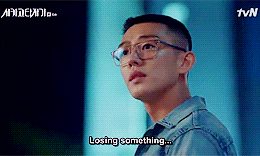 After reading the novel Seol had left for him and the text she'd highlighted, recognizing that his life has been hard but he'd lived and he's survived and so she hopes better years are ahead for him, Se-Joo heads out. He spots a bag in a boutique and remembering Seol's torn bag, takes a picture of it. He then finds himself at the vet clinic but at the last moment ducks out of sight when he sees Tae-Min drive up to the clinic with Seol. He overhears Tae-Min thanking Seol for taking on the job offer but the moment is interrupted when Seol sees the formerly possessed dog and runs to meet him. Tae-Min watches her fawn over the dog and his face falls when she explains that the dog played a role in her meeting Se-Joo. She names the dog Gyun-Woo (meaning dog friend)  and laments that she would have taken the dog home, but his particular breed is known to ward off spirits, meaning Bang-Wool wouldn't let her keep him (Wait what? But Jin-Oh possessed him easily!). Tae-Min volunteers to take the dog (nooooooo. Save the dog!!!!). He leads Gyun-Woo outside the clinic and runs into Se-Joo who sneers that Tae-Min spends all his time doing everything but write. The two of them throw jabs at each other although they both recognize their relationships with Seol. Tae-Min then mentions the press conference and Se-Joo goes to the root of the matter: Tae-Min always focuses on taking what is his. Tae-Min tosses the words right back at Se-Joo and states that the only thing that can be taken are things that aren't protected. The situation can be compared to being abandoned. Se-Joo replies that that's why he will make sure to protect what's his and prevent anyone from stealing them away from him. Tae-Min smiles and wonders if Seol is part of that, and laughs that he can read the answer in Se-Joo's eyes (what a prick!). Se-Joo doesn't reply and instead grabs Gyun-Woo's leash out of Tae-Min's hands, declares that the dog is his, and stalks off. (Thank you Se-Joo! Gyun-Woo is safe, thank heavens!).
9. Seol finally becomes an anti-fan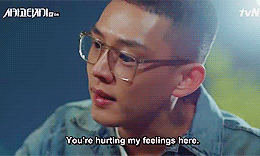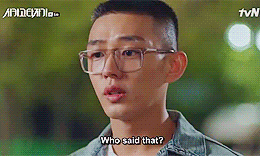 Whilst walking with Gyun-Woo and remembering Tae-Min's words, Se-Joo hears a voice. He's at first confused as to where it's coming from until he realizes that the voice is Jin-Oh's and it's coming from Gyun-Woo. He finally pieces it together that it had been Jin-Oh who'd possessed the dog, swallowed his USB stick, led Seol into his life and then leaped on Seol in his dog form. He immediately starts demanding that Jin Oh come out of the dog and show himself. Jin-Oh logically points out that it would make more sense for Se-Joo to be seen talking to a dog as opposed to him talking to himself. The words as expected frustrates Se-Joo who raises his hand. Unfortunately, Seol stumbles on the moment and naturally assumes that Se-Joo's being abusive. She points out that she'd begged Se-Joo to take the dog and had been relieved that Hyun-Woo would be going to Tae-Min instead, but of course Se-Joo interfered. Se-Joo's clearly hurt but Seol is on a roll as she continues that Hyun-Woo would have had a better time with Tae-Min (nope. But I don't blame you. You don't know what we know), unlike with Se-Joo who would abandon him. A hurt Se-Joo asks how she knows that, and she replies that he's shown it in his actions, in his words and how fickle-minded he is (ouch). Jin-Oh suggests that Se-Joo let the issue go and Se-Joo snaps at him to shut up. As always, Seol assumes he's talking to her and she declares that she'd thought that she could still be a fan of his writing, but right now, she won't even be a fan of his writing anymore. And with that said, she grabs Hyun-Woo's leash and walks away with him, leaving a devastated Se-Joo behind, whilst Jin-Oh says he's sorry (poor Se-Joo).
10. More secrets come spilling out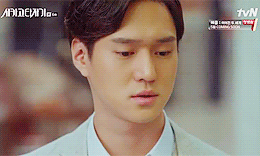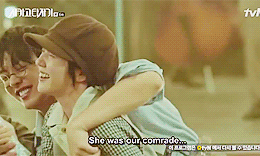 Back at the house, Jin-Oh tries apologizing again but Se-Joo's not interested in listening. He plans to sell the house and send the typewriter back to Chicago and he tells Jin-Oh to get out. Jin-Oh wonders if Se-Joo's not curious as to the reason why he sent himself to Se-Joo, but Se-Joo replies that he has no interest in learning about the reason. Jin-Oh pleads once again with Se-Joo to complete the story as he has no idea how his life ends and it's only through the story that he will get the answer. Se-Joo laughs and declares that he will settle the matter once and for all. He heads over to the typewriter and makes to smash it, but then he's tossed back into the 30's as Hui-Young (his 30's self) and Jin-Oh admire the typewriter back in the day. Jin-Oh wonders if they should both get it and when Hui-Young points out that the typewriter is pretty expensive, Jin-Oh teasingly asks if he should buy the typewriter for Hui-Young then. Hui-Young scoffs at the offer and declares that a pen is all he needs, after all, the saying goes that the pen is mightier than the sword. However, Hui-Young's pleased when Jin-Oh does get him the typewriter and he spends the day typing away. Su-Hyun walks into the room and wonders if Se-Joo's using the expensive typewriter to write his dime novels. Jin-Oh replies that Se-Joo hasn't said. He just mentioned that the story's not going to be sent to the newspaper and he's not writing it for glory or for women. At the words, Su-Hyun looks visibly excited and she sneaks up to Hui-Young, grabs the typed out sheets of the story he has so far and runs off to go and read. Later that day, an anxious Hui-Young waits for her feedback and when Su-Hyun reappears, she heads to the microphone and announces that she's finally seen the light in the darkness: the appearance of a talented writer: Hui-Young (awwwwww. Even in her past life, she loved the stories he wrote). She then declares that the drinks are on the house (hahahahaha. Poor Jin-Oh. He looks so pained at all the money Carpe Diem will lose that night), and grabs a bottle of champagne. She shakes it hard, pops it open and then proceeds to douse her friends as they all laugh. Back in the present, Se-Joo asks if Seol too had a connection to their past life. Jin-Oh agrees that she does. Her name was Yoo Su-Hyun and she was their comrade, and lover.
Character I wanted to bitchslap: 
Because no matter what your suspicions are, blaming a child for indiscretions committed by two adults is unfair and just devious. And considering that several DNA test results have been done to prove that Se-Joo's not Do-Ha's biological son, It makes the entire situation even more wrong on another level. Urgh!
Headache inducing situation: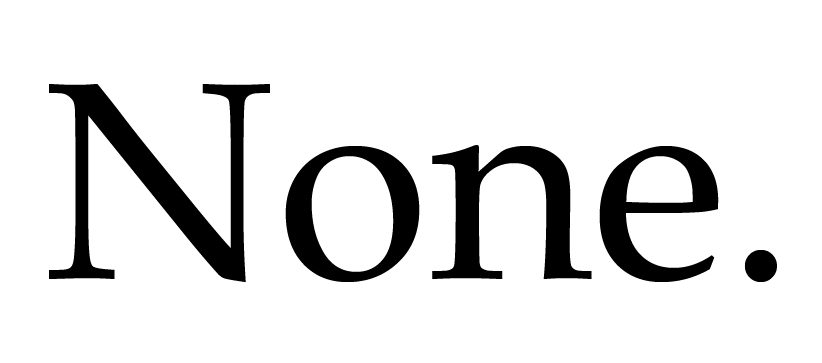 None in this episode.
Alcohol Rep:
This episode's the Bees Knees, brilliant perfection in an hour of storytelling that elevated, entertained, comforted and left me wanting more. I'm actually not surprised that it's the same writer that wrote Kill Me Heal Me, because you can see that hand here. The way the plot flows effortlessly. The beautiful juxtaposition of warmth and comedy and even that hint of creepy (we have Tae-Min and his mother to thank for that). I want more. And I have so many questions (not surprising considering that this is my state at the end of EVERY episode). Exactly how did Jin-Oh die? Was he the traitor of the three friends? Is that the reason why he's the only one who wasn't reincarnated? Also, why is it that Se-Joo has more of their remembered memories than Seol? If Bang-Wool's to be believed, then does that mean he has the biggest regret or does he have more of the story that he wants told? Was he the victim in it all, or will it turn out that he's the one that betrayed them. And once again, considering the twists we got in Kill Me Heal Me, I wonder if maybe it's Se-Joo that actually betrayed his friends and it's not the other way round. I also wonder exactly when Se-Joo will get a break and if and when Seol will finally see Jin-Oh. Sure it will help explain some of Se-Joo's rudeness but Se-Joo's been rude from the start and he did most of that all on his own, without an interfering ghost getting in the way. So the ghost reveal might still not be enough to mend that friendship. I hope it's mendable though. Because I love the thought of Se-Joo having Seol in his corner. Bonus points if that gets her away from creepy Tae-Min (although the girl's a gifted shooter, so I'm not that worried). Tae-Min's words to Se-Joo is gives me the shivers and it took me a while to finally figure out why. He's the perpetrator blaming the victim and the thought turns my stomach. I wonder when we will learn if he too is reincarnated and the role he played in the whole mess. To be honest, I won't be surprised if we see that he's the one who killed the three friends 80 years ago.