Quick run-through:
Do-Ha remains suspicious of Seol-Woo and Seol-Woo continues to be perplexed by the strange, strange woman. We find out a bit more about our villains and Mi-Eun but that just raises more questions in its stead. Do-Ha finally comes close enough to accomplishing her goal but foul play puts everything on the back burner.
The Episode in 10:
1. Do-Ha's in love with Un-Gwang and that's something Seol-Woo didn't plan for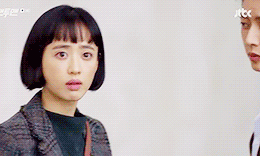 As expected, Un-Gwang's not impressed by Seol-Woo's manhandling of Do-Ha (to be honest, neither am I), and asks Seol-Woo to unhand her. Matters are worse for Seol-Woo when Mi-Eun seems impressed with his skills and Un-Gwang stalks off. Do-Ha then has Seol-Woo follow her and she admits that he's neither a member of the paparazzi, nor is he a fanboy. Seol-Woo points out that he never did say he was either. He'd only said two things: asked her who she was, and called her pretty (gah, his smile whenever he says that makes me melt. Of course he's acting but still… my heart). He asks her which of the two statements she didn't understand. Do-Ha looks affected for a moment but then notices Un-Gwang looking off into the distance, the very image of loneliness. Seol-Woo notices the expression, but then Do-Ha tells him that they will be the one to contact him if truly they need his services. Turns out that the reason why Un-Gwang is looking into the distance is because he's staring at Mi-Eun as she leaves. Do-Ha soon joins him and he lies that his mood is about a script he's preparing for. Do-Ha cheers him up by quoting some of his lines to him, and when Un-Gwang turns the conversation to Seol-Woo and the fact that he's a gift from a personal shareholder, Do-Ha suggests they use him and then force him to resign all on his own. The two friends then start congratulating each other on the brilliant plan with Un-Gwang calling Do-Ha smart and pretty. In the distance, Seol-Woo watches the interaction confused (hehehehehehehehe).
2. Un-Gwang's met his match in Seol-Woo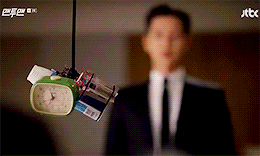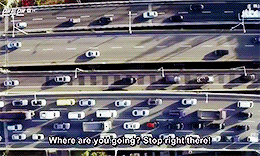 Do-Ha and Un-Gwang put their plan of getting rid of Seol-Woo in motion. First up is Un-Gwang's typical lie in in bed method even though he has to up from bed at seven, in order to make it to the shoot on time. Un-Gwang is as expected uncooperative when Seol-Woo comes to wake him, leading Seol-Woo to build a makeshift bomb (yes, you heard that right) in the bathroom and hang it over Un-Gwang's bed (Hahahahaha). He sets the timer for twenty seconds past 7, and tells Un-Gwang that he will have to rise from the bed to put it off before the time is off. Un-Gwang at first calls his bluff but when Seol-Woo starts to step away from the bed whilst doing a countdown, Un-Gwang rises and puts off the bomb. However, his first guess had been right as the bomb was a fake (Seriously though Seol-Woo, that was scary!). Even waking up early isn't enough to get them to the shoot on time as they get stuck in traffic. Un-Gwang sarcastically tells Seol-Woo that as his bodyguard, he should be able to pull off all the stops to get him to the shoot on time. The words spur on Seol-Woo who pulls Un-Gwang out of the car, holds on to his hand and pulls him to the subway station. Do-Ha tries running after them but she isn't able to make it, and the train doors close in her face. Soon they're on their way and ball of contradiction Un-Gwang is at first upset because he feels he will be mobbed on the train because his fans will recognize him. But everyone's too distracted and when no one recognizes him, he's upset that they aren't rushing at him. But, when Seol-Woo takes off the sunglasses that Un-Gwang had put on and Un-Gwang calls after him, people look up, recognize him and soon he's swamped by fans. Thus confirming all of Seol-Woo's assessment of him: he's a bully who's attached to the mother figure in his life (Do-Ha), who likes to both be recognized and not recognized all at once, and the one thing he loves the most, is to be the one trending in the news. And sure enough, talk of his subway ride has him trending thus putting him in such a good mood that he doesn't even allow Do-Ha to scold Seol-Woo.
3. Villains always make such strange bedfellows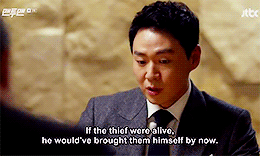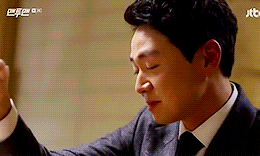 Dong-Hyun meets with Tae-Ho who confirms that yes, Mi-Eun's a spy for their organization. Actually they have more of a symbiotic relationship. But that's not the reason why Tae-Ho's called for the meeting. What he called the meeting for was to inform Do-Hyun that In-Soo's put his men on finding the wood carvings. Apparently, before In-Soo became a Congressman with his eyes set on first becoming mayor of Seoul then President of the country, he used to be an agent: a shady, corrupt agent who's now quite deadly in his dealings. Dong-Hyun replies that he will inform Seol-Woo, and he definitely should be worried as we see In-Soo's man torturing someone in order to get the location of the wood carvings. In-Soo then meets with Seung-Jae to deliver the news that although the agent who hid the carvings did his job a little too well, he will be able to get the carving by the end of the month. Seung-Jae makes a dig that In-Soo shouldn't have had the agent killed and claims that In-Soo should keep his hands clean. In-Soo replies that his hands are clean and the two of them have a staring contest which ends in Seung-Jae laughing and telling In-Soo that he would support him to the very end. In-Soo smiles but still has a hard look in his eyes (nope, these two don't like each other one bit!).
4. The alarm bells in Do-Ha's head start to ring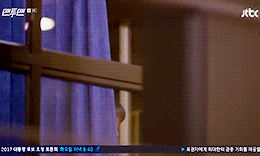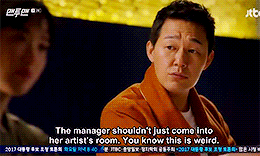 Do-Hyun calls Seol-Woo almost immediately to deliver the news about In-Soo and to warn him to be careful. Seol-Woo though isn't concerned and merely tells Do-Hyun to make sure his gear is ready. However, Do-Ha who was eavesdropping on the conversation immediately goes to report it to Un-Gwang. Although Un-Gwang is unconcerned, Do-Ha maintains that she doesn't trust Seol-Woo one bit.
5. Poor Un-Gwang. He just wants to have some chicken but no one will let him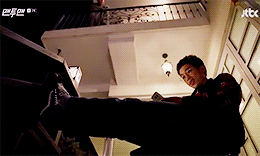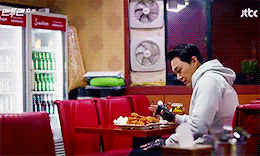 After their conversation, Un-Gwang suggests they have chicken for dinner. Unfortunately for him, he's on a diet for the movie he's shooting and Do-Ha puts down her foot and insists on no chicken for him. Even worse, she tasks everyone else on Un-Gwang guard duty to make sure he doesn't eat any chicken. Everyone except Seol-Woo who she has follow her to a restaurant to berate him oin the dangers of putting Un-Gwang on the train. Seol-Woo however is pretty confident that he had the situation under control and Do-Ha latches on the fact that she always knows where Un-Gwang is but she didn't know where Un-Gwang was because Seol-Woo had put him on the train. Seol-Woo who at that moment was watching Un-Gwang pull off impressive stunts to sneak out of the house so he can buy the chicken he was forbidden from eating smiles and asks if Do-Ha really is certain that she knows where Un-Gwang is at every moment. Do-Ha repeats the statement then rises as she states that there's some place where she has to be. The place she has to be turns out to be the chicken restaurant where Un-Gwang's about to dig into his chicken. She sends a metal pin flying and then warns Un-Gwang that she will aim for his leg next (ouch). Un-Gwang takes off running but makes sure to grab a chicken drumstick first. Do-Ha runs after him and almost catches him, but Seol-Woo pulls him out of sight. Un-Gwang's relieved when Seol-Woo reminds him that his number one duty is to keep Un-Gwang safe, but then turns sad when Seol-Wool takes his chicken away from him. He begs for one bite and Seol-Woo finally relents. But he pulls the chicken away at the last moment and it turns out that it's because Do-Ha's showed up. She's limping and Un-Gwang becomes immediately courteous as he blames himself for causing her injury. As he fusses over her, Do-Ha thinks to herself that this is the reason why she's Un-Gwang's fangirl. Seol-Woo meanwhile looks perplexed at the interaction especially when Un-Gwang ends up piggybacking Do-Ha.
6. In-Soo's a villain even other killers fear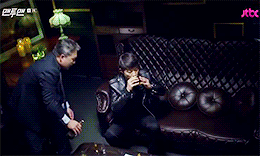 In-Soo meets with his hired killer: Ki-Chul who drops the news: the agency's using a ghost agent and he will need more time to find out who it is. In-Soo nods understandingly and then asks if Ki-Chul would like a drink. Ki-Chul replies that he would and so In-Soo pours him a drink. When Ki-Chul starts to drink, In-Soo pours even more into the glass, force feeding Ki-Chul alcohol as he growls that he's given Ki-Chul everything Ki-Chul could ever want and yet Ki-Chul is making Seung-Jae talk down on him. Ki-Chul promises to speed up the search and In-Soo stalks off.
7. Seol-Woo makes himself even more indispensable to Un-Gwang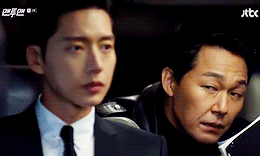 After having it confirmed that as Un-Gwang's bodyguard, he will be traveling with them to Victor's birthday, Seol-Woo is visibly happy. So much so that even Un-Gwang and Do-Ha notice. After the breakfast meeting, Un-Gwang heads to his movie shoot, but at the appearance of his ex-girlfriend, runs back into the van. Apparently, he cut all contact with her but rather than get a clue, she still insists on harassing him. Seol-Woo wonders if he should remove her from the set, seeing that she's a hindrance to Un-Gwang. Un-Gwang is surprised that this is within Seol-Woo's skill set. Unsurprisingly enough, Seol-Woo's able to get the girl to leave by subtly threatening to let the reporters know that she's also having an affair with another famous actor, and then flirting with her as well. But when Un-Gwang finally alights from his car after his ex leaves, and asks Seol-Woo how he was able to get the girlfriend to leave, Seol-Woo lies that he told her that Un-Gwang's gay. Un-Gwang though loves the twist.
8. Do-Ha finds what she needs to get Seol-Woo fired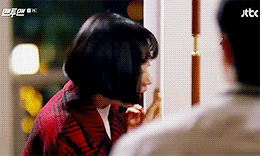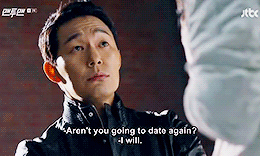 Do-Ha gets a call from Reporter Choi who informs her that Eun-Soo, Un-Gwang's ex was spotted at the restaurant that Un-Gwang is known to visit. He tells her that he's on his way there to confirm it so he can publish the news that Un-Gwang and Eun-Soo are dating. The heads up has Do-Ha running straight to the restaurant where she sees Eun-Soo meeting with Seol-Woo not Un-Gwang. Seol-Woo's showed up because he'd given Eun-Soo his number so he could talk her out of sharing the pictures she'd taken of Un-Gwang when they were dating, publicly. The two of them hold hands and Do-Ha who sees the move takes pictures, recognizing it as the ammunition she needs. The next morning, whilst Un-Gwang's getting ready for his scene, she meets with him to show him the pictures. Un-Gwang is at first unconcerned but when Do-Ha reminds him that Seol-Woo would be around when he starts to date again, and implies that the new paramour might find Seol-Woo more attractive, Un-Gwang immediately declares that she should fire Seol-Woo (hahahahahaha. He's so simple-minded).
9. A jealous Seung-Jae gives the order for Un-Gwang's death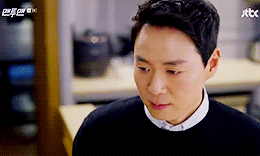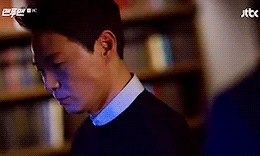 Mi-Eun, Sasha and Se-Hoon go out drinking to celebrate Seung-Jae's company sponsoring Un-Gwang's latest flick. Meanwhile, Seung-Jae's at home, playing trains with his son. His son's impressed with his skills and calls him the most brilliant person in the world. However, his son declares that Un-Gwang's character: Dark Death the strongest person in the universe. Seung-Jae's visibly pissed when his son admits that he and Mi-Eun have seen the movie at least 10 times. Things get worse when Mi-Eun returns home, visibly drunk, and admits that she and Sasha and Se-Hoon were out celebrating Seung-Jae's sponsoring of Un-Gwang's new movie. He mutters that he's sponsoring Mi-Eun's movie, not Un-Gwang's and later that night whilst still playing with the toy train, he admits that he was initially helpful because he felt sympathy for the man she'd dumped to marry him. But now, he doesn't want to do that anymore and he tells his henchman to fix it, just as he crashes the toy train. Seriously dude, that was your son's toy. Show some restraint!
10. Seol-Woo saves the day (of course he does! We're two episodes in. There's no way they're killing everyone just yet)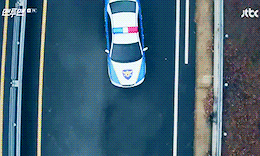 Do-Ha runs to deliver the news with glee and accosts Seol-Woo to inform him that he's been fired. Seol-Woo however is distracted by the sight of a strange man in a maintenance uniform getting into the car Un-Gwang's meant to drive for his next scene. He seemingly fixes something in the car, but something about the situation seems off to Seol-Woo. However, Do-Ha's yapping distracts him even as she wonders if he's ready to just quit the job. But then soon, Un-Gwang's in the car and driving off. Seol-Woo makes to run after him but Do-Ha holds him back and insists on him handing over his identification tag. However, the moment is interrupted by Un-Gwang radioing in that his brakes aren't working anymore. The whole set's in a state of panic and Seol-Woo spots a police cruiser and heads to it. Do-Ha runs to join him and soon the two of them are speeding along to meet up with a clearly terrified Un-Gwang who's having visions of another time when he'd been involved in a similar car accident. Soon, the two cars are nearing the end of the road and burst through the construction sign warning drivers about the road ending. Seol-Woo speeds by and is able to overtake Un-Gwang's car when they're almost at the road's edge. He then turns the car around so Un-Gwang slamming into the police cruiser would stop Un-Gwang's car. But upon noticing that it would be Do-Ha's side of the car that Un-Gwang would slam into, he spins the car around again so it's his side that's facing Un-Gwang's car and then pulls Do-Ha closer so his body would shield her from the impact.
Character I wanted to bitchslap: 
No one in this episode although Do-Ha came dangerously close.
Headache inducing moment:
Honestly I had such a headache and my throat was sore with all the screaming. Do-Ha's so focused on ousting Seol-Woo as a bad guy that she almost resulted in him not being able to pay enough attention to figure out that Un-Gwang's car had been tampered with. If she'd not been so focused on her own personal vendetta and accosted Seol-Woo, Seol-Woo might have gone with his hunch and checked out the car first. But nope, Do-Ha's on a roll and wouldn't stop yapping and Un-Gwang almost died. It's like she's still stuck in her sasaeng ways that she hasn't learned how to put aside her feelings and bias and do her job as a manager!
Alcohol Rep:
This episode's a Lava Flow with every component wholesome and sweet, sliding down easy as the hour flew by, but with some surprising depths in some of our characters. I find it very interesting that Do-Ha's not falling for Seol-Woo's charms, something that seems to perplex Seol-Woo. It's interesting really because unlike the other people he'd found it easy to deceive, Do-Ha won't be that easy. Even better, she's probably going to start him off on his journey of investing more of himself into this mission, which means he will most likely fall for her, and end up becoming best buddies with Un-Gwang. Of course he will most likely keep telling himself that he's doing it for the mission and that's where all the fun begins. I also love the little brief flashes of In-Soo's past that we were privy to. That he's a former agent gives him even more gravitas as a villain and makes him a perfect companion to Seung-Jae who's claims to be merciful in one breath even as he plots a man's death in the next. It also has me curious about Mi-Eun and her thanking her husband for Un-Gwang's movie. Is she being purposefully obtuse or is this all a ruse to see if Seung-Jae would play his hand and considering that Un-Gwang's accident was planned almost immediately, clearly Seung-Jae's shown said hands which would mean Mi-Eun's plan succeeded. Of course this then has me wondering if she hoped Un-Gwang's bodyguard will help minimize the fallout. I really do hope she had it all planned because if not, that's a huge slip up and from the way they've showed her as a smart, slightly devious woman (she's double playing her sociopathic husband for chrissakes!), that would be one hell of a slip up. I'm also wondering if that's why she married Seung-Jae: to spare Un-Gwang, and if maybe that's when she became an agent for the organization. Whichever way it worked I loved this episode and other than Do-Ha's annoying turn at the latter part of the episode, I love every part of it. I know she's just trying to do her job and she's right to be wary of anyone who comes near her oppa. But when her decision threatens to put Un-Gwang's life in danger, I draw the line at that and I really want to just shake her till she sees reason. Hopefully, she's a bit better in episode three.