Quick run-through:
Multiple personas is the order of the day in our first look into this drama and with the way everybody from our leads to our villain keep switching up personas on us, effortlessly shedding and then putting on different skins to fit the situation, it's an hour that gives us quite the insight into Man to Man and the kind of show it is going to be: nothing is ever as it seems and it's best to keep an eye on everyone we meet.
The Episode in 10:
1. He's a killer, he's a lover, he's a ghost and he's our lead: Kim Seol-Woo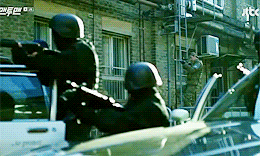 We open on a suicide bomber holding a school bus with the school children still in it as hostages. A force is already gathered and the snipers are in position, with the commanding officer giving the instruction that nobody should shoot without his command. Seol-Woo however notices the suicide bomber grabbing one of the school children and races off, pulling off stunts that lets us know that yes, this is an action flick as he leaps and jumps until he grabs the rail of a fire escape, aims his sniper rifle and takes the shot, seconds before the suicide bomber can blow the bus and the students in it to smithereens. His commanding officer yaps about how he's under arrest but Seol-Woo doesn't give a shit. Instead, he's all smiles at the little girl he rescued who smiles back at him. We go back a couple of years to Seol-Woo's interview which ends with him being drafted in as a ghost agent for the government. He's a master at disguises and taking on different forms and nationalities; a gift that comes in handy when he sets out to seduce the daughter of a Hungarian mafia boss. Except, when his girlfriend takes him to meet her father, the mafia boss jokes about Korean soldiers being competent fighters because of how well they use chopsticks. Seol-Woo laughs it off as a rumour and the mafia boss comments, in Hungarian, that as a racially inferior race, the soldiers have to have something going for them after all (what an asshole!). He is surprised when Seol-Woo responds back in Hungarian, stating that he's not surprised at the statement, seeing that the Mafia boss used to be in the secret police. Next thing we see, Seol-Woo's conversation with Dong Hyun that everything is going according to plan is interrupted by the mafia boss's goons who abduct him.
2. We meet Yeo Un-Gwang, king of the cheesy lines and Cha Do-Ha his fangirl manager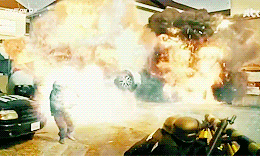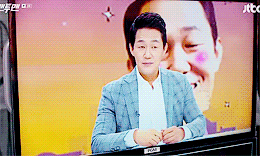 We cut to a standoff with the Police and some masked criminals at an impasse. The standoff is interrupted by Un-Gwang with a garish Scorpion tattoo on his cheek as he makes a dramatic superhero landing and with his powers, blasts the police officers away after responding to their questions of "Who are you" with the cheesy line "I'm a villain" (hahahahahahahhaha. That was hilarious and cringeworthy all at once). As he walks away from the destruction in a bad ass sequence the screen dissolves to show that Un-Gwang is at a TV station promoting his latest movie: the superhero flick. The interviewer brings up the fact that rumour about town is that Un-Gwang is a lucky guy who catches big breaks but Un-Gwang replies that it's all thanks to Cha Do-Ha's agency who manages him. Do-Ha who is present at the station, blushes and then steps back to give a voiceless squeal (hahahahaha. I like her).
3. Sometimes a man's got to do what he's got to do, especially when he's a secret agent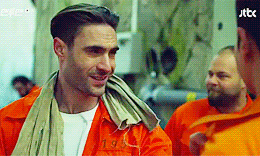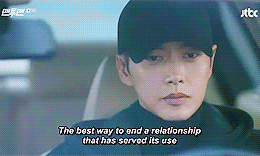 Turns out that the only reason why Seol-Woo went after the mafia boss was so the mafia boss would have him thrown into prison: a prison where a Russian official: Petrov is being held. After fighting off a couple of prison wannabe gangs, Seol-Woo meets up with Petrov who greets him as a friend. Petrov's surprised to see him and when Seol-Woo replies that he's there to get Petrov out, Petrov replies that the prison isn't one people get out of (I'm having some serious Prison Break deja vu right now). Seol-Woo smiles as he replies that getting into the prison is the hard part. And sure enough, after setting things in proper motion, he makes himself a master key, short-circuits the electricity in the prison and gets both him and Petrov out of their cells. After that, it's a matter of dodging guards and racing until finally they make it to an airstrip where a chopper takes Petrov home, after Petrov's promises to help Seol-Woo should he need his help. Next thing we see, Petrov's on television shaking the hands of Lieutenant Eun Oh-Ko after they sign a deal for the countries to share military technology, and Seol-Woo plans his way to break up with Anna (the Mafia boss' daughter) in a way that would not lead to the whole hell hath no fury like a woman scorned scenario. His way out is to fake a car bomb blast, and whilst Anna cries about his death, he walks away from it all smiling at the successful completion of his mission (woah. That's cold).
4. Un-Gwang might be a little silly but his heart's in the right place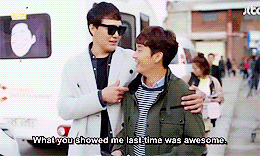 Waking up for Un-Gwang is a great production that consists of a ton of alarm clocks (I can so totally relate!) and being personally woken up by a member of his agency Sang-Sik. They're running late for filming but Un-Gwang insists on getting an extra snooze in and also grabbing breakfast. Except, he throws a mini tantrum when Sang-Sik serves him his coffee because he wants Jongro coffee but Sang-Sik got him Jongro coffee from their new branch in Hannam. Needless to say, they make it to the shoot late, and Un-Gwang blames it all on Sang-Sik (poor Sang-Sik). Un-Gwang does promise a member of the production staff though that he will shoot his scenes in one take to save time, and he does keep his promise, moving flawlessly through his action scenes until he accidentally gets hit by one of the actors he's meant to be fighting with. The director is pissed but Un-Gwang calms him down and hugs the actor, telling him that mistakes happen. They then walk away, and Do-Ha who's been gushing about Un-Gwang calls it a cool moment when Sang-Sik calls him a faker. Do-Ha's insistent though on her oppa and shows a clear bias for choosing him above all else (she's so cute. Hehehehehehe).
5. We meet Mo Seung-Jae, our two-faced sociopath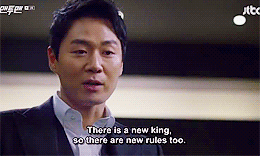 We cut to outside a school where reporters are gathered and interviewing a smiling Seung-Jae who's there to pick up his son. When asked as to why he's sent his son to a public school instead of a private school, he replies that it's so his son can live like a regular person. One of the reporters wonders if the rumour's true that Seung-Jae's doing so because he wants to go into politics, but Seung-Jae says he has no interest in politics. Even as he speaks, his wife, Mi-Eun steps forward and whispers to him to not smile too much and to act natural when their son shows up. And so, when their son does show up, they pose for the camera, the picture of a happy family. Seung-Jae however does an about face when later that night he offers Congressman Kim who wants to run for the mayoral position a bribe to drop out of the election. The Congressman agrees and accepts the money with glee, but then Seung-Jae's face hardens and he slaps the mayor across the face and shows him the hidden camera and the video of the Congressman accepting a bribe (smart move. He gets to force the Congressman to pull out of the election and keep his money as well. Not bad at all).
6. Do-Ha's bonkers. Absolutely bonkers! (And boy do I love her! Hahahahahaha)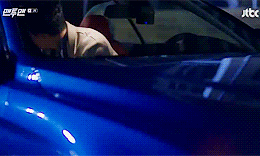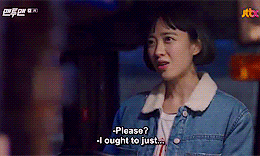 After his fight scene, next up is a make out session that looks eerily like Yoo Shi-Jin and Kang Moo-Yeon's kiss scene in Descendants of the sun (It actually is the kiss scene. Complete with the lines as well. Hahahahahahahahaha). But when it comes to the time for Un-Gwang to kiss the actress, he tells the PD to bring in a stunt double. The actress is insulted, but calms down slightly when the PD mentions that he thinks the rumour's true about Un-Gwang being gay. After the shoot, the actress approaches Un-Gwang and promises to keep his secret. Except the minute she says so, Un-Gwang proceeds to kiss her as he informs her that he's in fact a good kisser, even if he doesn't kiss actresses (it doesn't mean you're not Bi or Pan, Un-Gwang. Just saying). Next thing we see, the two of them are making out in Un-Gwang's car but their make out session is interrupted by Do-Ha's call. Un-Gwang lies that he's meeting with the director, but even after he hangs up the call, he mutters that he has a bad feeling about it. Turns out he has every right to be worried because Do-Ha shows up driving a tow truck and then proceeds to lift Un-Gwang's car with Un-Gwang and the actress still in it. The actress screams and begs to be let off and Do-Ha calls her disloyal (girl, you threatened her. What else did you expect? Hehehehehehe). Next thing we see, Do-Ha's driving like a man woman with Un-Gwang in the passenger seat, hanging on for dear life as Do-Ha scolds him about being caught dating.
7. Un-Gwang's Seol-Woo's ticket to solving his mission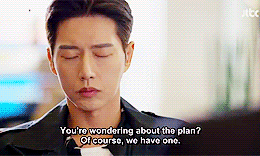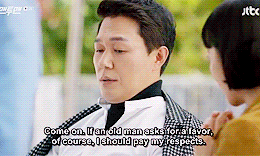 Whilst on vacation, Seol-Woo gets briefed. Apparently, an older agent has gone missing during the course of an investigation, and Seol-Woo's asked to help complete the agent's mission. The mission it turns out involves three wood carvings that contain the information needed to find Seung-Jae's grandfather's slush fund, something Seung-Jae's desperate to find, and the reason why Seung-Jae's teamed up with Baek In-Soo, the politician he's supporting to run for the mayoral election. Seol-Woo who's arrived in Korea, meets with Dong-Hyun who tells him that they've traced the location of the first wood carving to a Russian oil tycoon. Problem is security around the tycoon is very tight, so Seol-Woo's way in will be through Un-Gwang's fan meeting. Meanwhile, Un-Gwang's not sold on attending the party, but when Do-Ha and Se-Hoon mention that the tycoon is a big fan and will most likely invest in Un-Gwang's movies, Un-Gwang's all up for it (hehehehehe. I love his simple soul. So cute!!!).
8. Seol-Woo and Do-Ha have their first meeting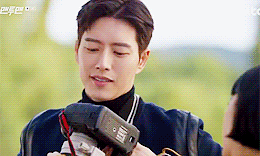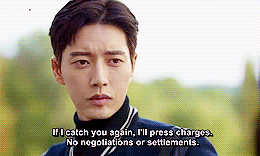 After Un-Gwang agrees to go to Victor, the oil tycoon's birthday, Do-Ha excuses herself to go set up the meeting. Except she instead heads up to the roof where Seol-Woo's taking pictures of Un-Gwang. She assumes he's part of the paparazzi and grabs his camera with a promise to only delete Un-Gwang's pictures. Except, she sees pictures of herself smiling and wonders why he took them. Seol-Woo replies that she's pretty and Do-Ha rolls her eyes (I love her disgusted face! She's like seriously dude? You couldn't come up with a better line? Hehehehehehehe) takes a picture of Seol-Woo's face to remember him by, and then goes ahead to format the camera as she warns off Seol-Woo that next time she sees him she will press charges. Later that night, she meets with her friend, and tells her what happened. Her friend wonders why on earth Do-Ha didn't collect Seol-Woo's number, after all, it's not every time that a gorgeous guy like Seol-Woo would call Do-Ha pretty. Meanwhile, at his lair, Seol-Woo restores the files that Do-Ha deleted and seems to be taken by Do-Ha as he stares at her picture for a beat too long (he probably knows she will be a hard nut to crack).
9. Mi-Eun knows Un-Gwang from way back and she's definitely playing a long game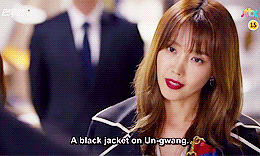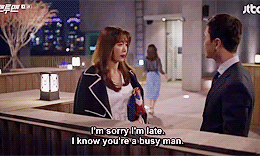 Mi-Eun listens to Un-Gwang's interview where he promotes his superhero flick. When the interviewer asks him why he does superhero movies, he speaks passionately about his love for action movies, so much so that the interviewer points it out. At the words, Un-Gwang's face falls as he replies that someone too had once said he talks really passionately about action films. At the end of the interview, Mi-Eun removes her earplugs and looks a tad bit sad and wistful as the car whisks her to her friend: Sharon Kim's boutique. Sharon's eager to style Un-Gwang in a black jacket but Mi-Eun replies that she should change the colour as she won't be able to get Un-Gwang to wear it (interesting). The two friends then give Mi-Eun's bodyguard a side glance and Mi-Eun states that she's ready to get fitted for her dress. Except, the dress fitting's a lie as Sharon takes her to the rooftop where Mi-Eun has a meeting with Jang Tae Ho (so is she a secret agent?). Mi-Eun ends up running into Un-Gwang at his photoshoot which Sharon styles him for. He's pissed when he sees Mi-Eun and even more pissed when he finds out that it's her husband's company that's behind the shoot. He tosses aside the red jacket she'd specifically chosen for him, insisting that they change it all, otherwise he won't participate in the shoot. But it turns out that it was all a ploy because Un-Gwang ends up wearing the black jacket Sharon had initially picked for him, and whilst Sharon cheers that it's exactly the way Mi-Eun had predicted, Mi-Eun looks sad as she mutters that Un-Gwang will most likely never wear red again.
10. Seol-Woo makes quite the impressive introduction as Un-Gwang's new head of security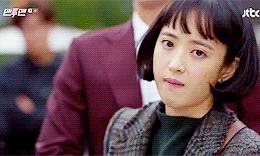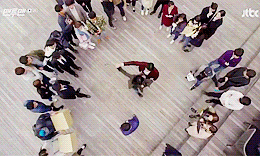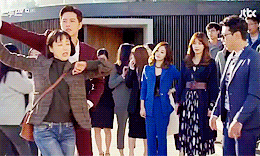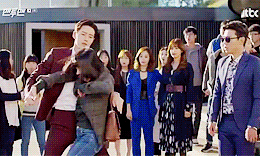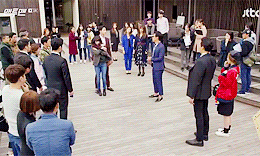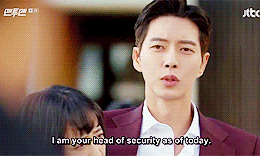 Whilst Un-Gwang gets prepped for his photoshoot, Do-Ha notices Seol-Woo who whilst charming Sul-Ha and Jung-Hye (also members of Do-Ha's agency), pickpockets Jung-Hye's entry tag. She trails after him and is able to notice Seol-Woo pickpocketing from a sleeping Sang-Sik as well. Just as Seol-Woo pickpockets Sul-Ha's wallet, Do-Ha confronts him as a thief, at which point everyone, including Un-Gwang comes out to witness the spectacle. But then, Seol-Woo disarms Do-Ha, twirls her around, holds onto her, confirms to Se-Hoon that truly Un-Gwang's security sucks, and then introduces himself to an unimpressed Un-Gwang as his new head of security.
Character I wanted to bitchslap: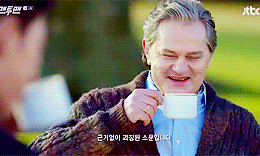 Because nothing gets me pissed as hell like racist pieces of shit. Forget bitchslapping, I want to punch him in the face and pummel him until he has no face to smile that smug grin or say those words ever again. Fucking asswipe!
Headache inducing moment: 
None. Although that scene where Dong-Hyun spills the secrets of the trade came really close. I just didn't add it because I'm hoping he's really not that stupid.
Alcohol Rep: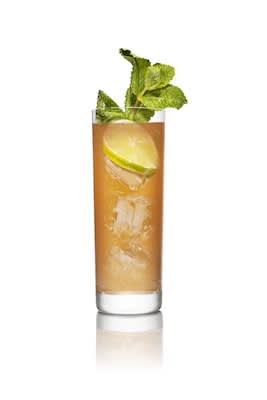 This episode brings to mind a tall cold glass of a Mayan Mule: hard-hitting and sweet and refreshing. Of course it's similar to the way I felt at the beginning of K2 with all its action scenes and so many things going on underneath (hopefully it won't turn into the trainwreck that was that show). But what makes Man to Man stand out for me has to be how interesting and unique the characters are. Seol-Woo's our super secret agent with a sense of humour (because something tells me that he can enjoy a good joke, not like we saw it in the first episode), attention to detail, the ability to shed personas like they're a second skin, except he just can't get rid of the thoughts of a certain fangirl turned manager. I'm intrigued by that. Is he captivated because he thinks she's a hard nut to crack or is the man who claims he's never felt any emotions for the women he's had to seduce during the course of his work actually falling for Do-Ha. And speaking of Do-Ha, boy do I love her and her fanaticism that's led to her not only creating a successful career for her oppa but to also protect his interests. She's so smart, preceptive and completely loyal, and the way she's not fazed at Seol-Woo smiling prettily at her definitely shows that she is one unique woman. She didn't even blink! It had to take her friend telling her that Seol-Woo's good-looking before she gave his picture a second look. That's saying a lot! And then there's Un-Gwang, one minute silly, the next doing his own stunts (and kicking some serious ass), and then the next being concerned. And then we add that touch of vulnerability and then anger when he runs into Mi-Eun and he's definitely a man that has a lot going under the surface. It's the same with Mi-Eun who's clearly manipulative, and on par with her sociopathic husband but then we wonder if she's a spy and if she will survive it because Seung-Jae is definitely no one to mess with. He's like a viper, drawing you in with his easy smiles and then striking when you're not looking. Most of our characters are so well fleshed out, and combined with the story definitely made an entertaining hour. I can't wait for what comes next!