Quick run-through:
The truth comes careening to light, making us thankful that the writers didn't drag out the reveal for too long. Se Joo continues to play hot and cold as things in his life continue to unravel. He finally gets his act together, courtesy of Seol, and just as he believes he's found solid ground, the truth once again yanks the rug from beneath his feet, leaving him reeling with this new discovery of his ghostwriter.
The Episode in 10:
1. Do-Ha's still an expert at twisting the knife in and there's darkness lurking behind Tae-Min's easy going facade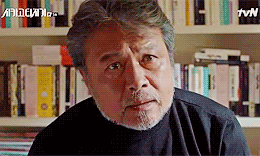 Tae-Min tries writing but can't because all he can hear is Do-Ha telling him that he should at least try surpassing the person he imitated. The words take us back to the past when Tae-Min had stumbled upon Se-Joo's "Fate" and when Se-Joo had given him the go-ahead to read it. Tae-Min had done just that. It's obvious from his expression that he finds the story gripping but when Se-Joo had assumed that Tae-Min didn't like the story and so therefore it would be a bad idea for Se-Joo to pass the story onto Do-Ha for Do-Ha to read, Tae-Min hadn't said anything. His thoughts are then interrupted by So-Hee in the present time, as she tries to get Do-Ha to agree to a co-interview with Tae-Min in order to publicize Tae-Min's novel. Do-Ha balks and calls Tae-Min's novel a third rate novel, insisting that Tae-Min's writing should sell itself and Tae-Min shouldn't have to ride on Do-Ha's coattails to sell his books. His advice: Tae-Min should quit if he can't do that. The words further upset Tae-Min, and when cat Seol comes out to play with her owner, Tae-Min gets a cold look in his eyes, accuses the cat of slighting him and then tosses her clear across the room (what the?!!! Damn. Poor cat).
2. Seol's missing memories are making up for lost time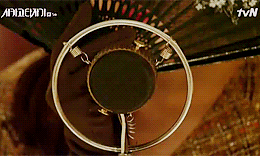 With the news of Seol being Se-Joo's possible lover/ghostwriter, Seol fields a ton of calls from Se-Joo's fangirls, so much so that Bang-Jin suggests she permanently switch off her phone, quit her "Do Anything" job and return to being a vet. Seol agrees. Bang-Jin then wanders out of the house and runs into Jin-Oh who's once again waiting outside their house. He tells her that he got kicked out of his present accommodation and when Bang-Jin presses, admits that he's currently not beholden to anybody. But Bang-Jin's joy is short-lived as Jin-Oh asks how Seol is doing and if she's happy. A frustrated Bang-Jin declares that she will go call Seol for Jin-Oh and stomps over to the house where she proceeds to do just that. Meanwhile, back in the house, Seol stares long and hard at the pocket watch until the watch stops, and then starts working again. Except, the clock hands go backwards instead of forwards and Seol is cast back into the 30's when Jin-Oh trains her on how to shoot properly with a pistol. The memory's then interrupted by a grumpy Bang-Jin who informs her that someone's looking for her. But when Seol gets outside the house, there's no one to be found. She hears a whistling sound and notices a truck in the distance and walks towards the truck. But then a strong winds blows her hat off and she chases after it. Just as she stoops to pick it up, she's cast back into the 30's once again and this time around, Su-Hyun's once again being chased by policemen. She runs into Carpe Diem, passes on the message that they've found sponsors, to Jin-Oh and then runs into a storage unit where she quickly binds up her wounds. The policemen follow her into the club and begin to search the place, and just as they get to the room she's at, they find that it's a changing room. Su-Hyun speaks to them in Japanese and asks that the men leave after they've looked their fill and because the policemen are looking for a boy, then head out. Su-Hyun then gets all dressed up and performs on stage, with a beaming Jin-Oh watching her performance. But then Jin-Oh taps Se-Joo and just as Se-Joo makes to turn around, Seol is pulled from the memory by Bang-Wool who exclaims that the visions have started again (Seriously though, what's with these women? Let Seol recover her past life's memories please! She needs to place that the man whose face she can't see is Se-Joo!). Back in the house, Bang-Wool pours Seol a glass and then confesses that when she was 10, Seol had informed her mother that she killed someone she shouldn't have killed. After taking her to a doctor, Seol's mother had brought her to Bang-Wool. Bang-Wool now tells Seol that after people die, they're made to cross the river of oblivion, and you're usually told not to look back. But some people look back either out of passion or regret or because they know people or stories that they don't want to forget. Seol wonders aloud which of the three is responsible for her fractured memories (I'm going to take a lucky guess and say it's a combination of all three?).
3. Things are not what they seem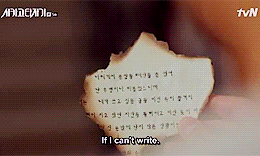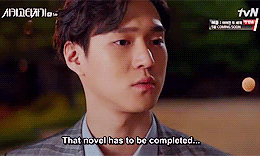 Back at his house Se-Joo reaches for the charred remains of the new chapter that Jin-Oh had typed, but a large square-like piece is left unburnt and Se-Joo reads it. As he does, there's an interception with his 30's self saying the exact same thing: "Even though we lost our country, no one can take my words away from me. If I can't write, I'll be no different from a ghost. When Joseon is liberated, I'll write whatever I want with passion." And sure enough, Se-Joo flashes back to the 30's where the exact same words were spoken by his 30's self, in response to Jin-Oh suggesting that he shouldn't resort to writing dime novels with his talent just because he got blacklisted. Jin-Oh's impressed with his words and when Se-Joo asks when Jin-Oh will resume writing again, Jin-Oh tells him that he would rather date. In response to who it is that Jin-Oh wants to date, Jin-Oh points to Su-Hyun who's performing on stage. 30's Se-Joo looks taken aback by how stunning she looks, and then Se-Joo snaps back to the present and drops the sheet of writing like he's been scalded. Outside his house, Jin-Oh urges Se-Joo to finish writing the novel as it's only when it's complete that he can live.
4. Se-Joo finally learns the truth about who's behind the malicious news reports about him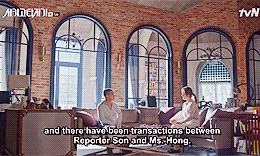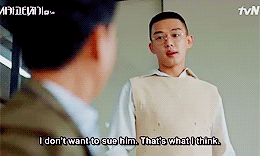 Se-Joo wakes up to find Secretary Kang cleaning up his writing room. She's come with news for him: the person she had dig for information discovered that the person who's been sponsoring Reporter Song's malicious articles about Se-Joo is none other than So-Hee. The news has Se-Joo laughing mirthlessly as he tells Secretary Kang to withdraw the lawsuit they'd filled against Reporter Song. Secretary Kang wonders if Se-Joo's saying so because of his relationship with Do-Ha but Se-Joo insists on her withdrawing the suit. However, when she mentions that Ji-Seok is at the moment with Seol, attempting to convince Seol to press a lawsuit against Reporter Song, Se-Joo dashes out of the house and makes it to the publishing office in time to tell Seol not to agree to anything Ji-Seok is saying, and to warn Ji-Seok to stop butting into his matters, otherwise they will have to part ways.
5. Se-Joo knows how to make the words hurt; a skill he shares in common with Do-Ha it would seem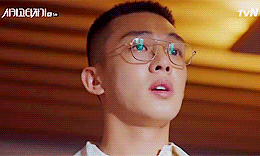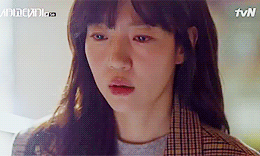 Se-Joo pulls Seol (must they always do the whole dragging thing? Seriously?!!!) into a conference room and snaps that she should not press charges. Seol points out that he's not the only victim in the situation as she too's been harassed, so much so that she can't work anymore. Se-Joo then asks her how much she wants as compensation (Seriously dude! That is not the point!). Seol remarks that she's doing this for him, to help him clear his name, and when Se-Joo barks that he doesn't want her help, she snaps back at him, as she wonders why he doesn't want to defend himself. Does he really have a ghostwriter he doesn't want anyone finding out about? Because she's sure he doesn't and he should use all the means necessary to fight back. Se-Joo shouts as he asks her why she cares and Seol shouts right back that she cares because she doesn't hate him enough yet. Se-Joo, then turns calm as he tells her to do whatever it is that she wants but she should never come before him again as things have stopped going well for him ever since he met her (damn. Dude, that's harsh!). He mutters that he's sure that's enough to make her hate him, and with that, he walks away.
6. Se-Joo and Jin-Oh strike a deal (not like Se-Joo's pleased about it)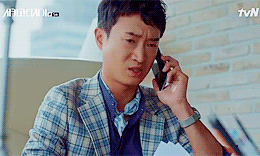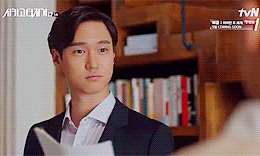 After leaving the publishing building, Se-Joo vows to write the story himself as that's the only time he can find some peace with regards the situation. And so, he heads home and types and sends the story off. Unfortunately, Ji-Seok calls him the next morning to inform him that the story's lacking a certain "spark", as a matter of fact, it's worlds apart from the previous chapters that it seems like it was written by someone completely different. When Ji-Seok mentions that he called the people they have a deal with to inform them that they would be putting the serial novel on hold, Se-Joo lies that he accidentally sent Ji-Seok the wrong file and asks for two hours for him to send the correct file to Ji-Seok. After getting the two hours grace, Se-Joo sits in front of his laptop and tries remembering the words from the burnt manuscript. But he isn't able to and so he runs outside, looking for the burnt copies of the manuscript that Secretary Jang threw out, but he can't find it either. He then heads back to the house where Jin-Oh's waiting for him with another copy of the manuscript. He offers it to Se-Joo on one condition: that Se-Joo must finish writing the novel, and that he will allow Jin-Oh to live with him for the duration of time, until the novel's completed. Se-Joo agrees, reads through the manuscript and types it out. And sure enough, what he types out is a record of the events that Seol saw: of Su-Hyun being chased, of her performing at Carpe Diem and of Se-Joo and Jin-Oh watching her. After typing out the manuscript, he's just about to hit send when he's flooded with memories of younger Seol asking him what kind of writer he wants to be, and telling him that she's praying for him and hoping that life doesn't keep him from pursuing his goal, and that she hopes he becomes a phenomenal writer. As the memories flood him, Se-Joo breaks down in tears and isn't able to hit send.
7. Se-Joo's the yo-yo master (seriously, the dude's the king of blowing hot and cold)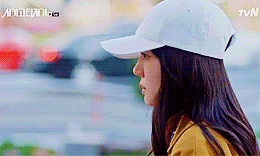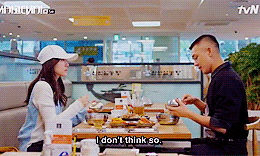 Turns out that Se-Joo didn't hit send after all because when Seol logs onto the site to read the latest chapter, it's to see the notification that no new chapter would be forthcoming that week. As expected, commenters start spewing vitriol about it being confirmation that Se-Joo's got a ghostwriter. Seol meanwhile leaves a nice comment that she will wait for an amazing 11th chapter. Of course the minute she sends it, she berates herself and asks what she's thinking (awwwww. She's still a fan). Her sunbae then shows up, and Se-Joo's able to close for the day. She heads out where surprise, surprise, Se-Joo's waiting with a silly smile on his face (I swear his mood swings give me whiplash). Seol's understandably miffed, and Se-Joo in a roundabout way asks what a famous star would do for his fan if the star knew he was going to die the very next day (I'm Seol calling him out on that lame synopsis). Seol grumpily admits that she might want to brag about it to her friends first, and so next thing we see, Seol and Se-Joo are eating at the restaurant where Bang-Jin works and a scowling Bang-Jin serves them even as she mutters snidely that indeed Seol must have betrayed her country (hahahahahahahaha. I love sarcastic Bang-Jin). Se-Joo comments on Bang-Jin's words and when Seol confirms that she believes it, Se-Joo replies that he doesn't think she betrayed her country in her past life. No, he thinks Seol was an freedom fighter, a sniper to be precise. Seol's surprised that he knows about her past life and wonders how he discovered it. Se-Joo flashes back to his memories of the 30's and lies that he figured it out because she's radical and is a shooter. Seol nods but then it occurs to her that she must have been the inspiration for the Su-Hyun in his serial novel. Se-Joo scoffs and tells her not to get ahead of herself. Next on their list of things the famous star should do for his biggest fan is a walk through a crowded street. Of course they have masks on to protect Seol's identity and when she makes the statement, Se-Joo stops and sincerely apologizes (awwwwww). When he makes to continue, Seol wonders to herself if he wants to confess his love for her (hahahahahahaha. Delusional), but then Se-Joo points to a game shooting station and suggests that they head in.
8.  Se-Joo's on a nice-guy roll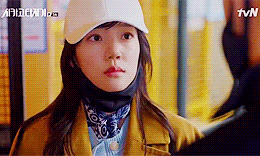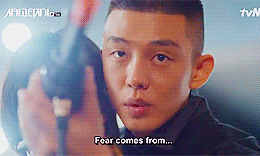 Se-Joo points out the stuffed bear he wants Seol to win for him and when Seol suggests he win the bear himself, he turns her around and insists that he has something he wants confirmed. Seol then attempts to take the shot but she's visibly trembling. Se-Joo walks up to her and corrects her posture. When she reminds him that she used to be a shooter, and tries to walk away, he brings her back and speaks, like he's addressing both of them: "Fear comes from the distrust of yourself and the anxiety about the unknown. If you don't want the fear to take over you, you must trust yourself." He tells her to trust herself and focus on the target, and sure enough, she hits the bullseye and they leave the arcade with the won teddy bear. As they walk away, Se-Joo comments that Seol's not an alcoholic like he'd thought (oh, so he thought that was why she stopped shooting?). Seol points out that he could have just asked her why she stopped and Seol reminds her that she said they have to be closer first. An eager Seol asks him if he wants to be closer to her but Se-Joo replies that they can't get closer than this (you sure about that?). Something about his tone sets the warning bells off and Seol wonders if he's truly terminally ill and dying. Se-Joo laughs and says he isn't dying. He repeats the words to himself and then walks away. When Seol mutters that he's playing hard to get, he turns around and smiles, holds up the teddy bear and tells her thank you for everything and that he will never forget that she's his number one fan ( I am Seol confused and worried about this turnaround).
9. Se-Joo announces the truth to the world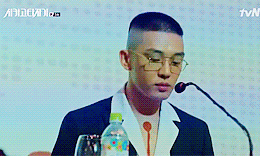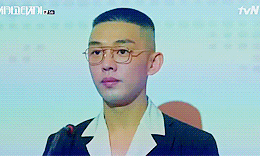 After leaving Seol, Se-Joo heads home for an outfit change and to pick up Jin-Oh. He then drives them both to a press conference he's called. On their way to the press room, Jin-Oh brings up the fact that Se-Joo didn't release a new chapter of "Chicago Typewriter". He wonders if Se-Joo didn't like the manuscript he'd typed and Se-Joo cryptically replies that his agreement with Jin-Oh will cease to hold as Jin-Oh will have to move out of his house. Things become clearer however when the press conference begins and Se-Joo addresses the gathered pressmen that he's there to lay to rest the rumours about him having a ghostwriter that have plagued his career all these years. He admits that in the past, the rumours about his ghostwriter were false but presently they're true. Reporter Song who looks quite smug asks who Se-Joo's ghostwriter is then. Se-Joo replies that the ghostwriter who's been writing "Chicago Typewriter" is Jin-Oh who's sitting right next to him.
10. The actual truth finally comes out: Jin-Oh is a ghostwriter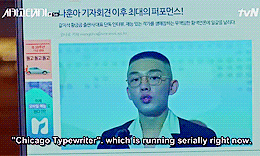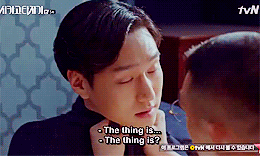 His announcement about Jin-Oh surprises everyone present but Se-Joo doesn't notice. He continues his apology to everyone and adds that they should stop harassing Seol because she's done nothing wrong. Instead, she's someone who's saved his life and a fan of his books. Bang-Jin who's watching the stream of the press conference with Seol and Dae-Han is every impressed at the declaration. After Se-Joo makes his announcement, he tells the pressmen to direct any questions they have to Jin-Oh and then walks out. Back at home, he gathers his employees together, apologizes to them as he informs them that should he not be able to afford to keep them anymore, he will pay them their severance package. He then entreats them to leave him as he wants to be alone, and walks to his writing room. Finally, he switches on his laptop where he sees a video recording of his press conference where just as we've suspected, there's nobody in the chair next to him. The news of the day is filled with this development and when a stunned Se-Joo mutters that Jin-Oh was sitted right next to him, Jin-Oh appears in the writing room. Se-Joo grabs him and demands for him to reveal his identity and Jin-Oh admits that he really is Se-Joo's ghostwriter, it's just that he's an actual ghost.
Character I wanted to bitchslap:
N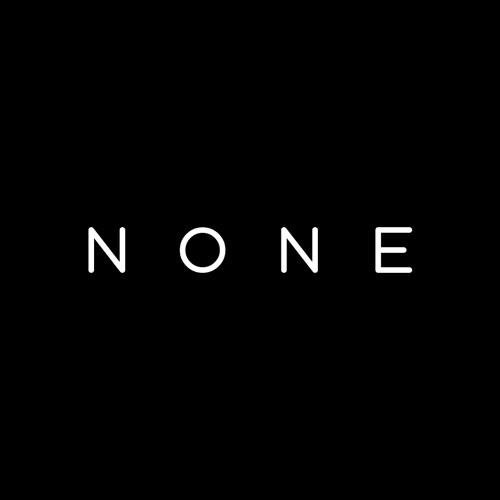 o one in this episode. This probably has everything to do with the fact that we didn't really see So Hee and Reporter Song scheming together in this episode thank heavens for that!
Headache inducing moment: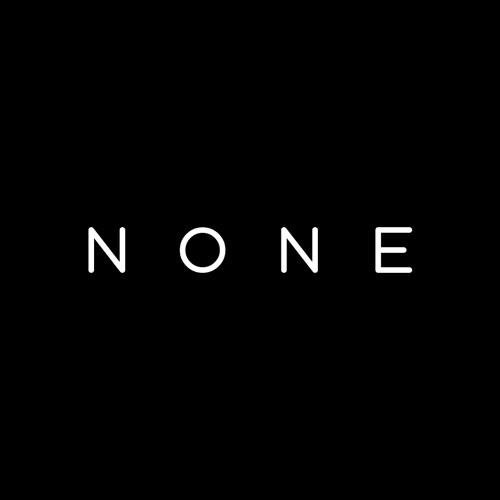 None
Alcohol Rep:
This episode's a French 75 because wow was it a doozy. Who knew Se-Joo had it in him to be supportive and sweet and playful. Like Seol said, it didn't last long, but when it did, boy did we have a blast. Even as we celebrate that, there's that hint of bitter, that touch of sadness as we realize that this is the person Se-Joo could have grown up to be. If he hadn't been betrayed by life and scarred by his time at the Baek household, this is the kind of person he would have been. Sure he would still be intense and driven and brilliant, but he would have been more carefree, more given to having a great time. I tried to put my finger on exactly what made him so different and I figured it out. The Se-Joo we met is the Se-Joo with his guard down and what a thing to see. I sincerely hope we get to see more of him in the future. Another thing we have to celebrate about? The fact that the writers didn't drag out the is he or isn't he a ghost scenario. We're five episodes in, the truth is out and now we're truly set on the course to unravel the mystery of it all. And the biggest mystery is: is Jin-Oh a benevolent or a malevolent ghost. I never can tell. And I blame it all on that smirk at the end when he admitted to being a ghost. There was that hint of cruelty behind that smile and it had me suddenly worried for Se-Joo, although there's still a part of me that wonders if maybe Jin-Oh's there to break Se-Joo apart, just so he can put him together again: make him the stronger, more brilliant, more live in the present Se-Joo that we know Se-Joo can be. It's a lot of suppositions we have going for us right now, and one of them also has to do with Jin-Oh's cryptic message that it's only when the novel is complete that he can live. It has me wondering, does he mean that his soul will finally be able to move on if the novel's complete? Or does he mean that he will find a proper form and body? There're so many questions and Chicago Typewriter with its oldies, classic noir feel has me hooked and it just won't let go.