Quick run-through:
Twists and turns and answers to questions that raise even more questions is the order of the day. Se Joo finally confronts Jin Oh, although Jin Oh continues to be cloaked in mystery. Past Su Hyun and present Seol continue to collide in Se Joo's mind, adding to the upheaval that's befallen his life ever since the typewriter was delivered to his home. Thankfully, Se Joo's able to remember his reason for writing and the type of writer he's always wanted to be.
The Episode in 10:
1. Turns out Jin Oh just might be an actual Ghostwriter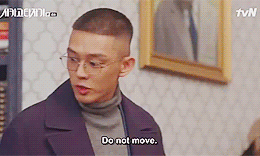 After getting caught by Se Joo, Jin Oh is still unrepentant and quite nonchalant, something that drives Se Joo even more crazy. He demands that Jin Oh tell him who sent him, and next thing we see Se Joo's calling Ji Seok who comes running to his house under threats that Se Joo's not going to renew his contract. The minute Ji Seok starts buzzing to be let into the apartment, Se Joo ties up Jin Oh so the other man won't leave and goes to confront Jin Oh who still insists that he never hired a ghost writer in the first place. Se Joo pulls him into his writing study so all three of them can hash it out, except by the time he gets there, Jin Oh's not in the study and the binds are lying loose on the ground. Se Joo still insists that Ji Seok must have helped Jin Oh escape, and Ji Seok to prove his innocence, calls his ghost writer. Except, the call goes to voicemail, which leads Ji Seok to wail out the ghost writer's name: Yoo Chang Myung. This stuns Se Joo who finally puts it together that Yoo Jin Oh is a play on the writer Eugene O'Neill whose painting is hanging on the wall. Outside Se Joo's house, Ji Seok calls Se Joo's doctor about his therapy appointment and as he walks away, Jin Oh sighs that he's been caught and then smiles at the thought of playing some more with Se Joo.
2. Sometimes, a cat works wonders in helping two people bond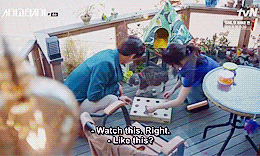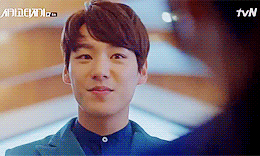 Seol heads to the vet clinic to help her senior with work. Apparently, it's the vet's wedding anniversary and Seol offers to stand in for her. Whilst she works, she can sense that she's being watched but every time she turns around, she finds no one looking at her. Of course we see that it's Jin Oh who smiles wistfully every time he sees her. His smile turns a bit sad however when Tae Min shows up and a smiling Seol leads him in. After checking out Seol the cat, Seol tells Tae Min that the cat is depressed because Tae Min doesn't spend as much time with her, nor does he play with her as much as he should. Seol then takes him out to shop for toys and teaches him how to use them whilst playing with cat Seol. Back at the clinic, Tae Min asks Seol to grab a beer with him. She wonders if he's hitting on her and he laughs and replies that the beer's a thank you and also a way for him to ask her for her help. The help it turns out, is for her to provide him with some veterinary medicine input for his novel. Seol replies that she quit being a vet and will instead refer him to someone else. When he asks her why she quit, she gives him the same answer she gave Se Joo when he asked her why she quit being a marksman: She'll tell him when they become close. Unlike Se Joo, Tae Min's answer is immediate: They can get closer right now as he's always wanted to be closer to her since the very first day he met her. After taking more than enough pints of beer, Seol comes clean. Back when she'd been a vet student, there had been an outbreak of foot and mouth disease. Because they didn't have enough hands, vets and vet students were called to handle the situation. Seol had been put in charge of euthanizing the cows, and till date, she can still hear the dying cries of cows she'd killed, something that is even more painful because she believes she's killed more animals than she's saved (how sad). After her night of drinking, Seol heads back home and as she walks she concedes that now that she thinks of it, she always feels frustrated every time she has to do something linked to killing. She wonders if she was a butcher in her past life and is now being punished for it. Or maybe, she killed someone in her past life, someone she shouldn't have killed.
3. Seol's finds yet another admirer in Jin Oh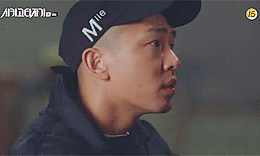 Seol walks back home, unaware that Jin Oh's trailing behind her. Meanwhile, Se Joo who couldn't sleep, had retrieved the pocket watch from his coat and headed to Seol's house where he sees Jin Oh walking behind her. After Seol enters her house, Se Joo confronts Jin Oh who admits that he's in love with Seol. A sceptical Se Joo wonders exactly when that happened and Jin Oh smiles wistfully as he replies that he fell in love with Seol at the airport, when he arrived from the US to Korea (yup. He's the ghost inside the typewriter alright). Se Joo scoffs at the thought of Jin Oh arriving from America, but then Jin Oh senses something bad coming and tells Se Joo that they should run even as he runs away. The something coming turns out to be Bang Wool with a bowl of red beans in hand, who'd sensed that there was an evil presence outside her house. She starts throwing red beans at Se Joo, mistaking him for the spirit and only stops when Seol recognizes Se Joo (yup. Jin Oh's definitely a ghost alright). After Seol walks off with Se Joo, Bang Wool sends Bang Jin outside to gather the red beans. Bang Jin does so whilst complaining about her mother's loss of her psychic powers, but then stumbles to a halt when her fingers brush against Jin Oh's and she looks up into his gorgeous smiling face (ha! So she did get some of her mother's powers. Although she has no idea she's falling for a ghost. Poor girl).
4. The gold pocket watch plays matchmaker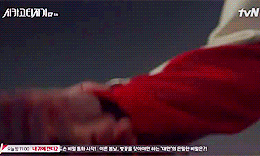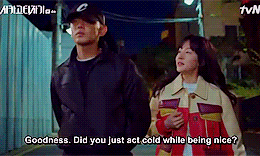 After calling after him incessantly, Seol finally gets Se Joo to stop and she asks if he came around because he wanted to see her. Se Joo asks her how she knows Jin Oh and if Jin Oh's said anything about him. She replies that she doesn't know a Jin Oh and when Se Joo tries walking away she again, she asks why him why he showed up. He then hands over the pocket watch and a delighted Se Joo asks if he went looking for it in the cabin because he was thinking of her (hahahahahaha. She looks so happy too. So much for being an anti fan). All of Se Joo's grumbling that no he wasn't thinking of her and he just drove into a fog, saw something shiny and thus found the pocket watch falls on deaf ears. Seol's delighted that he found her pocket watch and offers to treat him to a thank you.
5 We learn the reasons why Se Joo writes and the kind of writer he wants to be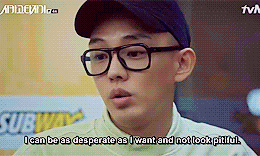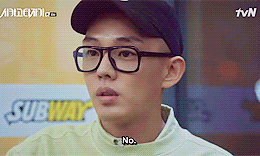 Se Joo has Seol take him to a Subway store and when she asks if it's alright, he teases her that she's probably worried because he said he wants to forget the events of ten years past. She's delighted that he finally remembers and he smiles at how happy she looks (awwwwww). He calls her the crazy fan who brought him hot chocolate and Seol frowns and replies that she knows him way more than that. Se Joo's sceptical so Seol points out that writers give away parts of themselves through their writing. She confirms that yes, she did read his early manuscript, and they even had conversations together. We flash back to Seol asking younger Se Joo why he writes and he quotes Byron in reply: "If I don't write to empty my mind, I go mad." Se Joo's surprised that Seol knows the quote and she admits that she's a bookworm as a means of escape. Se Joo confirms that he's a writer as a form of escape and when Seol asks if he has a hard life, he confirms it, and replies that that's why he writes. Because it's a safer option than being betrayed, it's a better escape than using drugs and the career can be a lucrative one. She then asks him what kind of writer he wants to be and when he replies that he wants to be an original writer, she asks he wants to be a writer whom no one copies and he corrects her that he wants to be a writer no one can copy. They both excitedly blurt out the originator of the quote: Francois Rene de Chateaubriand. Se Joo's sceptical about her recollection of his past self, but Seol insists. She also points out that the novel he threw out that day was phenomenal, possibly the best thing he's ever written. She said it was the novel that made her know that he would be successful and that she prayed that he would achieve his dreams and that life's ordeals won't stop him. She then turns serious as she asks him if he can now sustain himself with his writing. Se Joo mutters that he bought a mansion, a deer, a car and can even afford to buy anything he wants. They both smile at that, but then Seol asks if he's now become a writer no one can copy. Se Joo's face falls as he remembers Jin Oh and his claim that he's Se Joo's ghostwriter. Seol who notices his expression wonders if he doesn't think he's achieved that yet.
6. The past and present keeps colliding, leaving Se Joo as confused as we are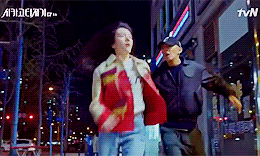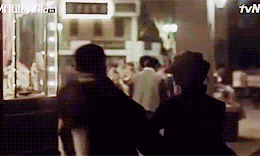 On their way back, Seol stumbles upon Se Joo and Tae Min's joint advert about reading. She states that Tae Min's even more handsome in person. Se Joo's surprised that Seol's met Tae Min and Seol replies that they even grabbed a beer together earlier that day. A jealous Se Joo calls Seol a disloyal fan and when she points out that he told her to stop being his fan, he replies that he graciously renounced that statement (hahahahahahahaha). He then asks her who looks better, himself in the commercial or his present self. Seol exasperatedly replies that he's  handsome both on screen and in real life. Even as Se Joo blushes and then tries to pass off the compliment, he notices that they're being photographed and tells Seol that they should run. As they run, the pocket watch falls and Se Joo flashes back to the 30's when he and Su Hyun (not Su Yeon apparently) were being chased by the police and the pocket watch had fallen mid chase. Just as Su Hyun had, Seol runs back to grab the watch and the two of them run in a way reminiscent of Su Hyun and Se Joo's running away from the police. Just like it had happened in the past, Seol pulls them to a store corner where they take refuge, and Se Joo grabs her and asks who she is. He wails about her showing up in his thoughts, his dreams, and in his novel and then stalks off, leaving Seol to be amazed about Se Joo reading web novels (hahahahahahaha).
7. The rumour mill's back in action and is being fueled by Reporter Song and So Hee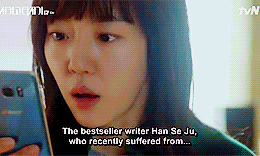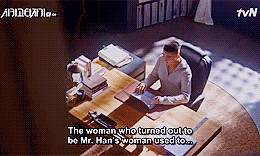 The next morning, the news floods the web about Seol being Se Joo's secret lover, and possibly his ghostwriter. It turns out however that the person behind the article is Reporter Song who's being egged on by So Hee. So Hee though believes that they need more believability that Seol is Se Joo's ghostwriter and suggests that Reporter Song find a way to get a picture of Seol and Se Joo in Se Joo's writing room together. Reporter Song comments that that would involve him installing a camera in the place, something that Bang Jin who's now working in the coffee shop over hears, although she doesn't know the exact details of the phone call. He continues after Bang Jin's left that the security in Se Joo's house is too tight, and So Hee suggests that they bribe Seol so she can join their side. Whilst she talks, So Hee's unaware that Do Ha's eavesdropping on her conversation. Meanwhile, Ji Seok calls Se Joo to remind him that his writing output cannot drop nor can the quality of his writing reduce as people would assume that the ghostwriting rumour is true (drat!).
8. Se Joo's suffering from writer's block and Jin Oh offers to help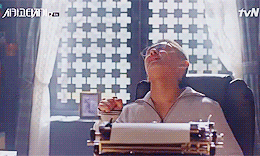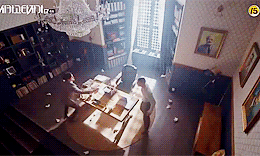 Se Joo heads back to his laptop to start writing but nothing comes to mind. He then flashes back to how well Jin Oh was writing using the typewriter and wonders if maybe the words would come easier to him if he typed using the typewriter as well. Unfortunately, he's still suffering from writer's block and soon the floor's littered with crumpled sheets of paper. Frustrated he goes to dunk his head in the bathroom sink and then looks up at his own reflection as he remembers the questions Seol had asked him ten years prior. Is he happy writing? No. What kind of writer does he want to become? One that doesn't suffer from writer's block. He heads back to his study and hears the clanking of the typewriter keys. Jin Oh's back at work again. He confronts Jin Oh who confesses that he figured that Se Joo didn't like his first manuscript (seeing that Se Joo tore it up that night) and wanted to rewrite it. After barely restraining himself from strangling him, Se Joo asks the important questions. How did Jin Oh get in? He snuck in and spent the night because he doesn't have anywhere else to go. How did Jin Oh get in the first night? He had some shady dealings in the past and is quite adept at picking locks. Who sent Jin Oh? He sent himself to Se Joo because he wants to help. What does he want in return? To be Se Joo's friend and to have a place to stay in the meanwhile. Se Joo's not willing to help and threatens to call the police when Jin Oh won't leave. Jin Oh points out that calling the police will lead to everyone discovering that he's Se Joo's ghostwriter. A frustrated Se Joo tries throwing him out of the house, but then the doorbell rings and he ends up pushing Jin Oh back into the study to hide him.
9. Fate was Se Joo's idea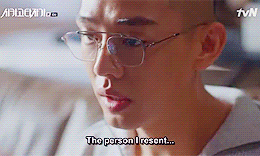 Turns out that Se Joo's visitor is Do Ha, and although it clearly chafes, Se Joo welcomes him in, although he's quite obvious in that he wants Do Ha out of his house as soon as possible. Do Ha brings it up and Se Joo points out that he's sure Do Ha had to sneak out of the house without So Hee's knowledge, to see him. He continues that contrary to what Do Ha thinks, he doesn't hate So Hee. Heck he can understand her even. What woman would want to raise the child of her husband's first love? The person Se Joo resents however is Do Ha, the father-like figure who stabbed him in the back. Even as they're talking, a snooping Jin Oh stumbles upon the first draft of Fate which Se Joo wrote and compares it with Tae Min's published version. He gets so carried away reading that he falls backwards, causing a ruckus which leads Do Ha to come snooping in the writing room where he sees Jin Oh sitting on Se Joo's first draft copy of Fate. When Se Joo enters the room, furious that Do Ha entered his private space without asking his permission first, Do Ha cryptically says Se Joo has something that other writers don't have and warns him to get rid of it. With that said, he concludes that it was a mistake for him to come to Se Joo's house and leaves.
10. Se Joo makes his stand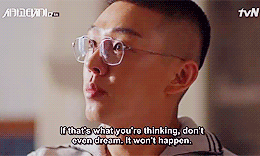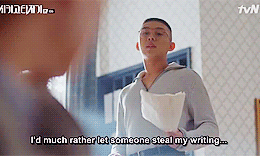 After Do Ha leaves, Se Joo accuses Jin Oh of trying to sabotage him. Jin Oh however asks if Se Joo as well was once a ghostwriter, if he had ghostwritten Fate for Tae Min. Se Joo's eyes cloud over with hurt at the question and he barks at Jin Oh to leave. He then walks over to the table, picks up the manuscript that Jin Oh wrote and declares that he would rather allow himself be copied than for him to take credit for another man's work. And with that said, he sets the pages ablaze.
Character I wanted to bitchslap: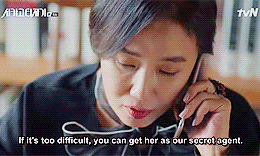 So Hee and Reporter Song once again have the joint honour. Although now it's partly because they're so hellbent on ruining Se Joo's life and his career, and partly because they dare dream of bringing Seol into their mess. Thinking of that just makes my stomach boil.
Headache inducing moment:
None in this episode.
Alcohol Rep:
This episode with all its intrigues, twists and turns is definitely a Dubonnet cocktail. So much masking and hiding and only shedding light on certain areas (I'm still confused though. Is Do Ha referring to the manuscript as the thing Se Joo should get rid of, or is he referring to Jin Oh, because I don't think he can see the ghostwriter). I also find the themes of betrayal in this drama very interesting. Se Joo has shown us time and again that he tends to trust no one, and what that ends up resulting in, is that he sabotages himself and relationships that would have otherwise flourished. An example being his natural distrust leading him to believing that Seol spoke about the killer who claimed that he killed because of Se Joo's writing. Now that we're having a better idea of what's happening, it reinforces for me that Se Joo hadn't actually ghostwritten Fate. If the way we've seen things in the show so far is to be believed, he probably submitted the story to Do Ha for Do Ha to beta read and let him know if the story's worthwhile. Do Ha then most likely passed on the story to Tae Min, which would explain why Se Joo states that Do Ha stabbed him in the back. This betrayal theme runs also into Se Joo's interaction with Jin Oh and his conviction that Jin Oh's setting him up for failure. I do love though that he's remembered the type of writer he wants to be: one who wouldn't take credit for another man's work, but at the same time, I wonder if a middle ground can't be found. Sure Jin Oh can't and shouldn't write his story, but what happened to brainstorming together? Tossing out ideas? I do believe though that one of the core lessons Se Joo will learn in the course of the drama is how to recognize the people that are willing to help him, and how to ask them for help. Because Bang Wool did predict that he would have two meetings and that the way he reacts will affect how his life will turn out. And something tells me that the two people he's destined to meet and whose interaction with him will determine if he lives or dies are: Seol and Jin Oh.