Quick run-through:
More relics show up from the past bringing with them memories and more clues as to how our characters are inter-connected and the overarching story of the drama. Seol and the mystery man both come to Se Joo's rescue, although Se Joo's not as grateful. A watch shows up from the past, and Se Joo finally gets a face to face meeting with his ghost writer that raises more questions in its wake.
Top 10 Moments:
1. Seol comes to Se Joo's rescue again. Not like he's very grateful for the help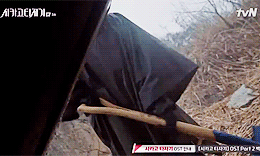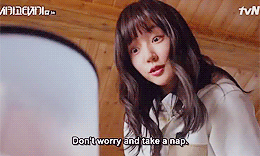 Even before Seol's shovel hits the ground, Se Joo passes out, probably out of fear and shock. But luckily for him, Seol uses the shovel not to kill him, but to dig him out of his overturned car. As she sets out freeing him, our third friend is hard at work, typing out pages on Creepy Typewriter (CT). And when he takes a moment for a smoke break and uses the Carpe Diem matches to light his cigarette, he pauses for a moment, with a wistful smile (so does that mean he's the ghost? Or is does his reincarnated self remember more than the others?!!!!). Meanwhile Bang Wool prophetically wonders if it's a good thing that Seol and Se Joo crossed each other's parts. And as if in response to her words, the gold pocket watch that Seol has on her, falls down whilst she digs Se Joo out. By the time Se Joo comes around, he's bound to the bed and almost mummified (with a lamp shade to protect his head no less. Hahahahahah), in a manner reminiscent of Annie Wilkes tying up and imprisoning injured writer Paul Sheldon in the book MIisery. Se Joo also comes to that conclusion, especially when he sees Seol walking up to him with a syringe in hand. She calls him lucky that he not only bought a car expensive enough to protect him (is that what we're calling it drama? That the car is Cliff and accident proof? Suuuuuuure), but that she also stumbled across him. Se Joo doesn't look like he agrees and when she tries to force the syringe into his mouth he resists. Seol then holds his nose closed, and seconds later, Se Joo's mouth opens. She pops the syringe in and pushes down the plunger, informing Se Joo that it's a liquid diet that was in the syringe and she'd also added painkillers in the mix. I'm Se Joo grumbling about why she didn't tell him from the onset, although this makes for some highly entertaining drama. Hahahahahahahahaha.
2. Our mystery man also comes to Se Joo's rescue. Although something tells me, Se Joo might not be so grateful for the help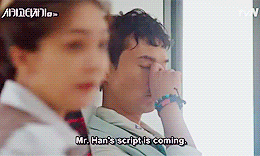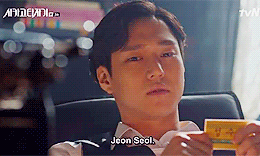 The deadline comes knocking and everyone in the publishing house, particularly Ji Seok are on pins and needles waiting for Se Joo's novel. Just as they're about to descend into the depths of misery that Se Joo won't come true for them, the fax machine comes on and spits out pages upon pages of the mystery man's carefully typed out pages of the first week's story titled: Chicago Typewriter (ha. So he's writing a serial? Nice).  Ji Seok immediately gets to work, and sends his assistants off to type out the pages and buy some more time from the website. Meanwhile, still at Se Joo's writing room, the mystery man makes himself comfortable with cool jazz playing on the turntable, as he rifles through Se Joo's desk. He happens upon Seol's business card and smiles.
3. Se Joo keeps sticking his foot in his mouth. Hahahahahahahahaha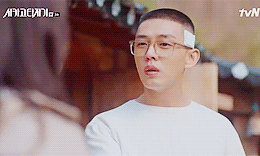 Thanks to Bang Jin explaining things to Dae Han, (Seol's friend who has a crush on her), we learn that after Seol's mother disappeared, Seol went to live with her father who gave her a pocket watch with the admonition to live in every moment. Her father unfortunately, died whilst rescuing a missing person, and so every year, on his death anniversary, Seol goes up to his cabin to remember him. Seol  finally realizes that she's dropped the pocket watch and when she grabs a shovel to go digging for it, Se Joo, who's all recovered wonders if she wants to dig his grave. He however can't stop sticking his foot in his mouth as he then accuses Seol of planning everything, because how else did she happen to conveniently be in the same area as where he would have his accident (yup. He really sucks at just saying thank you. Poor Se Joo. All that suspicious living has to be taking its toll on him). Seol, fed up with his accusations finally blurts out the truth: the cabin's her father's and she wants to go dig up something he gave her, which she lost whilst carrying him. She's even more hurt because she'd convinced herself that should Se Joo wake up and thank her for saving him, she would forgive him for all the times he's hurt her (awwwwwwww).
4. Se Joo finally puts things together and remembers Seol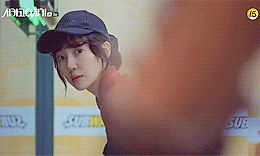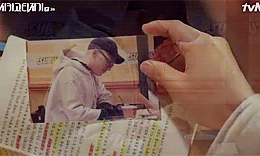 After confirming once again that there really is no network signal in the cabin and he can't reach out to the outside world, Se Joo takes to snooping around the cabin and smiles at the little things that showed that Seol grew up there: like the notches on the wall that her father had used to mark her height (awwwww), and the framed picture of little Seol smiling with her father (awwwwww). He finally picks up the novel she's bookmarked several times over: Stalker (which was of course written by him) and finds within its pages a photograph of himself in the Subway store, back when he was working on writing his first novel. He then flashes back to that point when someone mysterious had left him a fresh cup of coffee and a message written on it, declaring the person his first fan.
5. Sometimes, it's hard to let go of your fangirl ways, especially when you're Seol who'd almost convinced herself that she's an anti fan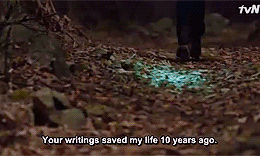 Seol heads out to go dig for her father's pocket watch, and although she digs all day until it's well into the night. She doesn't find it. She almost trips in the process however, but thankfully, Se Joo's there to catch her. They then hold onto each other as Seol limps back to the house. Se Joo, now having realized that Seol really has always been his fan tries to make amends by teasing her about her not laughing again. She points out his comparison of her to Annie Wilkes from Misery and that shuts him up. Back in the cabin, he teases her again about her not being able to sleep in his presence (she'd zipped up her sleeping bag so she wouldn't have to look at him), and then confesses that he now knows she's not a stalker, but she's just clumsy. He asks if she would return to being his fan, and looks outraged when she starts to snore. Hahahahahhahaha. Except, not too long after, Se Joo zips down the bag (wait so was that a fake out or did she really fall asleep?), and just as she complains that she thought she would suffocate in the bag, she hears Se Joo whimpering in his sleep. She takes his temperature, registers that he's burning up and promises to go get help. Se Joo tries to keep her from going as he admits that he doesn't want to return to the way things were ten years prior; that he doesn't want to go back. Seol leaves anyway, and tells herself that she heard that one can lose one's talent if one doesn't fight whatsoever obstacle is keeping them from carrying it out. She continues that she doesn't want him to lose his talent because his writing saved her ten years prior and so she's doing this for the both of them. By the time Se Joo wakes up again, he's back home, in his own bed.
6. Our mystery man is not a Ghost writer in the literal sense. Although he is still a ghost writer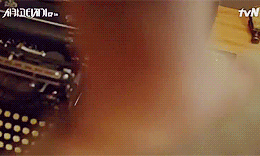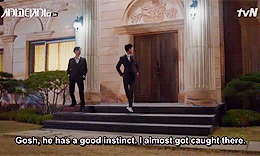 Se Joo's stunned to be back home, especially when he happens upon food that someone's laid out for him. He hears a sound and heads to his writing room where he finds a stub of a cigarette, still fresh, and the pages of the Chicago Typewriter manuscript. Moments later Ji Seok comes in, all teary eyed that Se Joo was so exhausted and had used so many drugs that he collapsed. He remarks that Se Joo survived because he was given amazing first aid when he was first found, and that his doctor's been treating him for the last couple of days. Se Joo's not concerned about that though as he questions Ji Seok about the serial novel that's been typed out. Ji Seok replies that the novel was faxed via Se Joo's fax machine and praises Se Joo for coming through for him. Except, when he gets outside, we see that the mystery writer's waiting for him, and Ji Seok breathes a sigh of relief that Se Joo didn't catch them (seriously Ji Seok? Seriously?!!! What a snake!!!!). He's of the opinion that now that the manuscript is ready, there won't be any more problems. Yeah, keep telling yourself that Ji Seok. Meanwhile, up in the house, Se Joo wonders if he really did type out the manuscript whilst half unconscious, (courtesy of the pills he'd taken that night), and now can't remember doing so. Or if Ji Seok's lying to him.
7. Do Ha: harsh critic extraordinaire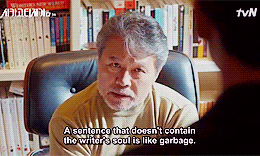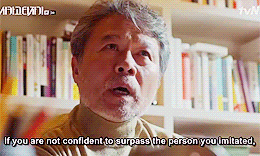 After Se Joo convinces himself that Chicago Typewriter was indeed written by him, after all, no one can reach into his brain and pick out the story he wanted to write, his foundation is shaken when after their collaboration on a "read books" advertisement, Tae Min casually mentions that he's surprised that Se Joo stepped out of his comfort zone and wrote a book that's not his usual style. Tae Min points that the story's good, although he'd at first thought that it wasn't Se Joo that wrote it. Se Joo bristles at the implication and is scathing in his reply as he tells Tae Min to stop spending all his time at the salon and should instead focus on getting some writing done. Back at home, Do Ha lights into his son as he basically calls the second draft of Tae Min's novel garbage and tells him to rewrite it (talk about being brutal). He wonders when Tae Min would be conscious of Se Joo whilst he writes, and when Tae Min replies that he doesn't think of Se Joo when he writes, Do Ha replies that if Tae Min wasn't confident of surpassing the person he imitated, he shouldn't have imitated him in the first place (interesting).
8. Se Joo finds himself in the past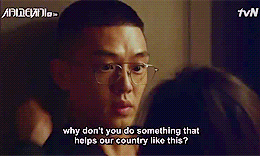 Se Joo has his deadline looming, and once again, when he sits in front of his computer, nothing comes to him. He hears a man's voice calling, "Hey Buddy". And steps out of the house where he finds everywhere surrounded by fog. A man identifies himself as Hwi Young, strikes a match and walks away. Se Joo follows him when suddenly he hears the sound of a man drawn cart and catches a glimpse of our mystery man being carried in a cart. And then, the fog clears and he's literally in the 30's, where Su Yeon grabs his hand, shouts at him to run, and then the two of them begin running away from the group of policemen chasing after them. They take refuge outside a store and Su Yeon whips off her hat, and pulls Se Joo into a kiss, thus tricking the policemen into thinking they're just two lovers kissing in the night. After the policemen run off, still in search of them, Su Yeon pulls away and hands over the pocket watch as she tells Se Joo that her debts are settled, seeing that she's returned his father's watch back to him. She makes to leave but Se Joo holds onto her hand which we see is bleeding, and he asks her why she's being chased. She smiles, tells him to remain indifferent to the end, and warns him not to fall in love with her, as she only did it for the revolution. Se Joo wakes up the next morning to find the next installment of the story, neatly typed out, sitting next to him. What's even more amazing is that it's the events of everything that he dreamed that was typed out (okay, so are there two ghost writers in this story?). When his secretary comes to get the papers so she can type it out, he thinks to himself that he didn't write the story.
9. The pocket watch returns to its original owner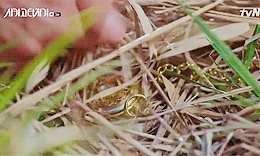 Unaware that Reporter Song and So Hee are plotting about spreading their tales that he has a ghost writer, Se Joo confronts Ji Seok about the ghost writer he hired. Ji Seok admits that he did hire a ghost writer at first, but he fired him, after Se Joo insisted (wait, so are we supposed to believe that? I don't know what to believe anymore). After the conversation, Se Joo heads out for a drive but has to pull over when a fog suddenly descends. By the time the fog clears, he finds himself back at the cliff his car had gone over when he had his accident. Even as he wonders why he's back there, he sees something glinting in the distance. The something turns out to be the gold watch Seol was looking for. Even as he picks it up, we cut to Seol and Bang Jin where Bang Jin talks about her theory that old objects have souls in them and maybe the watch had decided it wanted to return to its original owner, after all, Seol had said that her father found the watch on the mountain anyway (curiouser and curiouser). Seol scoffs at the thought of the ninety year old owner walking up the mountain, but Bang Jin points out that the watch technically doesn't belong to her, plus if it was indeed hers, it would work for her. Even as she says so, the watch starts to work again, right before Se Joo's eyes (yup. It's his alright).
10. Se Joo meets his Ghost writer: Yoo Jin Oh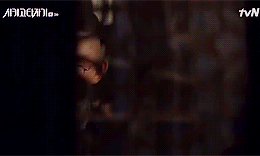 After leaving the mountain, Se Joo heads home. As he drives, his memories drift from Seol to Su Yeon and the gold watch that Su Yeon claimed was his, even as Seol claimed it as hers. Still remembering Seol's admonition that he should overcome his obstacles and write, Se Joo heads to his writing room but stops upon hearing the sound of a typewriter at work. He peers through his bookshelves and sees the mystery man typing away with the light of a candle. When the mystery man finally finishes writing the manuscript, Se Joo grabs him and asks who he is. The mystery man smiles and introduces himself as Se Joo's ghost writer: Jin Oh.
Character I wanted to bitchslap: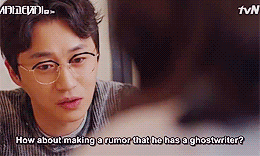 The honour goes to the joint combination of reporter Song and So Hee who've both decided, the former for financial gain and So Hee for the mess that's the Baek household and their strange obsession with Se Joo, to gang up together to ruin Se Joo. Honestly, I just wish I could reach into the screen and shake them both so hard they will see stars.
Headache inducing moment: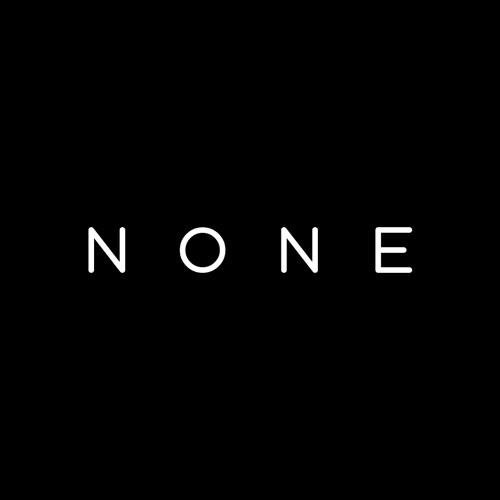 None in this episode.
Alcohol Rep: 
This episode's a Bees Knees, the prohibition cocktail that's crowned the very best with its sweet notes of honey and citrus and the intoxicating force of bath tub gin. The complexity's put Chicago Typewriter at the top of the pack, with how effortlessly the cinematography switches from the 30's to the present day, leaving us dazed as we wonder how Se Joo got there and if he's in fact the elusive Hwi Young reincarnated in his present day form. It takes us to the dizzying heights filled with questions as we wonder exactly what the outcome would be, if we would all survive them all. Why are they reincarnated. Is the writer we see typing away at the typewriter, the Jin Oh Ghost writer Ji Seok hired, or is he the Jin Oh from the 30's playing at being a ghost writer. Because the fact that he referred to Se Joo in the third party and called himself "Se Joo's ghostwriter" and not, "your ghost writer" has the warning bells ringing. Also, how much more does he know if he is the reincarnated third friend. Because both Se Joo and Seol have shown us that they have varying levels of recollection. Seol handles a gun the same way Su Yeon once did, but she can't see the faces of the men she called friends in her past life: the men Su Yeon possibly killed. Se Joo meanwhile drifts in and out of the 30's convinced he's either dreaming or is losing his mind. But he at least knows more than Seol about their past life. So does that mean that Jin Oh's going to be one amongst them who knows all? The one who perfectly remembers their past even as he lives in the present? And more importantly, what's with the creepy watch? There are so many relics of the past that have made their way into the present, and that has me wondering if the Jin Oh we see is possibly a relic, not a reincarnation but their friend who never really died or aged. Either way, this drama keeps getting better and it sucks us in just a little bit more, and I'm totally here for it!