Quick run-through:
Chicago Typeriter kicks off with a bang, or should I say the sharp clatter of keys. We meet all our key players, save for the third mysterious face, and find ourselves in a drama that's comedy meets suspense meets action meets the supernatural and which then gets topped up with romance. It's a beautiful cocktail, visibly stunning and one whose first episode is over an hour long, but you won't find me complaining.
Top 10 Moments:
Sometimes suffering for your art involves dressing up like a hobo, hanging out with the homeless, kicking some gangster ass and then coming back home to a house so fly, it's no surprise when we learn that you're a famous writer. Or in much simpler terms: our introduction to our hero, Han Se Joo.
We open on a group of gangsters harassing the homeless folk in search of a mysterious 'man'. One such mysterious man is sitting by the fire, scribbling away when one of the gangster approaches him. Our hobo doesn't take kindly to being touched: his hands are for his work he says, his notebook is not to be touched, and his head is not to be tampered with. And he proves this point by beating up all the gangsters in an impressive fight sequence that has me wondering when the hobo could afford to go to martial arts classes and learn to kick some serious butt. Except, the great reveal shows that this is no ordinary hobo. Nope, it's our hero Han Se Joo, famous bestselling author who was present to gather research for his newest book. Apparently as an author, you have to be a master of disguise so you can take on the form of your characters and get into their heads. Something tells me the other homeless guys will be very pissed should they find out Se Joo. But then, this is not that type of drama so your gorgeous self is safe.
2. If you thought Chucky the doll was creepy, wait till you see the creepy Typewriter or as I'm going to call it, CT!
Se Joo's latest book is a success (as one would expect), and he travels the world for book signings and to greet his beloved fans. At one such signings, he wakes up from a quick nap and spots a typewriter (something that happens because one of the stage lights creepily swings to the typewriter). He hears voices, and no, Se Joo's not schizophrenic. What it is instead are memories of a Se Joo lookalike from the 30's, who's chatting with a woman who tells him the gun she's holding is called a Chicago Typewriter because it sounds like the clanking of a typewriter, and advises that he writes not for fame or women, but because he has a magnificent tale to tell. We then snap back to the present where See Joo makes an offer to the cafe and typewriter owner for the creepy typewriter. The owner calls CT priceless and refuses to sell. Except, later that night, CT comes alive and starts typing on its own (yes you heard that right), and as if the invisible author needs music, the music player also starts playing, giving you some 30's speakeasy vibe which wakes up the owner who grabs his gun and heads down to investigate (bad idea dude. Bad idea). He finds CT typing away with music in the background and like any sensible adult not willing to die in a horror movie, bails. We then pan back to the typewriter which interestingly enough is typing lines upon lines, saying that it should be sent to Han Se Joo. Now that's creepy.
3. Sometimes we just want our overachievers who are neurotic enough to instill fear, strong enough to almost be Olympians, smart enough to almost be vets, and crazy in love with a favourite author. Or in much simpler terms, our introduction to our heroine: Jeon Seol.
Seol like any lover of a good book smiles upon seeing Se Joo's book in the aisle and sniffs it (what do you mean by that's weird? You mean you've never sniffed a new book before? Such a pity!). She's pulled away by her friend Bang Jin who wails about Seol wanting to buy yet another copy of the book (my kind of girl). Except, Bang Jin almost becomes ex friend when she mutters that some people think Se Joo uses his looks to sell his books. Like a fan Seol threatens her and warns her off anyone saying such nonsense. After she storms off due to a phone call about someone needing her services, Bang Jin gives her coworkers and the audience a run-down about Seol who's determined, strong, brilliant and a fanfic writer obsessed with Se Joo. The obsessed Seol meanwhile makes it to the airport where she runs into and then misses her chance at meeting Se Joo because she has to work. Except the work involves a direct delivery to Se Joo himself. Interesting. Who wants to bet that it's CT in that package?
4. When Se Joo accuses Seol of being a conniving, dog training ideas thief, or in much simpler terms: the meet cute.
Se Joo receives a package that turns out to be a picture of him riddled with bullet holes (not a good look). Even as he deals with that, Seol buzzes the house to deliver the package. She's excited at the chance to meet him and stumped when he tells her to leave the package at the gate. Except, she's not stumped for long as a dog comes running to meet her, and the gate swings open. Assuming that it's Se Joo who's let her in, she walks in, thus surprising Se Joo who meets her at the door. He doesn't believe her when she says he opened the door, and wouldn't let her take the package in, telling her stories of stalkers and blackmailers who've left questionable things at his house, hence the caution. But, even as he's speaking, the shaggy dog runs into the apartment to Se Joo's horror and he informs Seol that he's deathly allergic to dog fur and needs her to catch the offending dog. She corners the dog but neither she nor Se Joo are able to stop the dog from swallowing the USB stick shaped like a bone, which contained all of Se Joo's research (dude, couldn't you get like a regular can opener stick like everybody else?). Thus commences a dog chase that ends with Seol convincing Se Joo to speak softly to the dog and they both coo at the dog to come meet them. Hilariously, the dog runs to meet Seol, to the tune of Celine Dion's "I'm your Lady" (I kid you not!), and Se Joo looks suspiciously at the enthusiastic Seol (yup. Even I would assume it was all part of some big ploy).
5. The meet cute ends or as I'd rather put it: Se Joo has trust issues.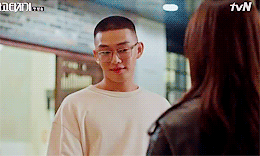 Seol and Se Joo rush the shaggy dog (until they give him a name on the show, I'll be calling him Shaggy D), to the vet. Thankfully, the dog was able to poop the flash drive out. Se Joo however is not willing to touch the USB (I agree with him on that. Dog poop? Yuck!), and so he has Seol transfer all the information on the stick and email it to him. As she works, he makes her a cup of coffee and when Seol starts to tell him that she's met him before, he shuts her up with the myriad of excuses stalkers have used about they've known him from a past life, blah, blah, blah. Seol tries to explain that she's a big fan but Se Joo just leads her out, accepts the package which he assumes to be the typewriter after Seol tells him that it's a package from a cafe owner in Chicago, and shuts the door in her face.
6. Seol has supernatural abilities and was once suicidal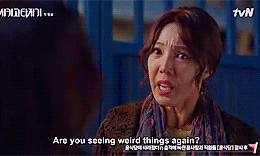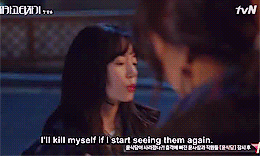 Seol heads out to meet Bang Jin and the rest of her friends and shows them Se Joo's laptop which he told her to keep (hahahahaha. He doesn't want anything reminding him of the dog poop does he?). After a night drinking, Seol and Bang Jin head home where they come face to face with Bang Jin's mother: Bang Wool. Seol at first thinks Bang Wool's mad at her, but it turns out that Bang Wool senses a dark aura around her (I'm gonna take a guess and say it's the typewriter), and wonders if Bang Wool can still "see things". Seol replies that she hasn't seen things in a long while and promises that should she start seeing them again, she will kill herself, especially since it was because of her "visions" that her mother ran off, thus killing her dreams of becoming an Olympian. Bang Wool tells her that her mother ran away with another man, not because of her visions but that doesn't bring Seol any comfort.
7. CT just keeps getting creepier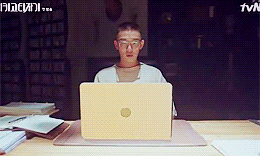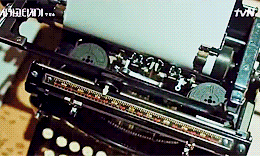 That night, as Se Joo works on his novel, there's an intense focus on the typewriter which he'd placed in his writing room, and which seems to be driving him as he keeps typing faster and faster until suddenly it's not the Se Joo of the present we're seeing but 1930's Se Joo, also typing, but on the typewriter. In the corner of the room is Seol (ha, so she's the girl) who assembles a pistol with a wicked fast grace. Se Joo tells the other occupant in the room who we can't see that Seol's too young to be caught up in their dealings. When Seol hands over the pistol to the man in the dark and then places a machine gun: the Chicago typewriter on Se Joo's desk, she urges him to write something good, and not because of fame or women. When she's about to leave, the other occupant knocks down her hat and Se Joo's entranced as he discovers that she's a woman. Present Se Joo then wakes up, late into the afternoon with the idea for his next novel: a love story between an activist and a writer, set in 1930. This is going to be interesting.
8. Se Joo's immediate past comes calling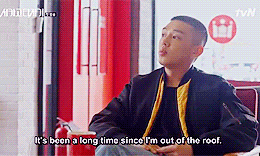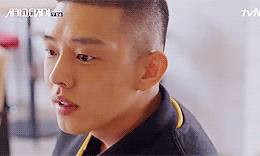 Eager to get started on his novel, Se Joo heads to the library to research guns and runs into Tae Min. It's obvious that there's bad blood between them but Se Joo agrees to Tae Min's coffee invitation to avoid the slew of fans waiting to see him. At the coffeeshop, he holds no punches as he shoots down all of Tae Min's efforts to tell him about things going on in Tae Min's family and about Tae Min's father's own writing (ha. So they're all writers then). Se Joo's eager to leave although he comes to a halt when Tae Min admits that his father misses Se Joo and worries about the dangerous things Se Joo writes about. Se Joo's response is scathing as he replies that what shouldn't have been written was written 10 years prior and it ruined both him and Tae Min. Curiouser and curiouser
9. Seol and Se Joo's first meeting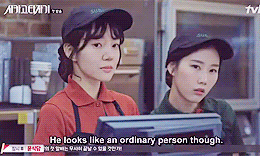 Se Joo gets back to the house to find music playing. It's the CT back at it again, but he doesn't notice. Nor does he notice the creepy eyes in the painting following him. What he does notice though is that the fortune cookie he'd tossed into the trash is now at the window. He also senses that someone's watching him but when he calls out, nobody answers. Instead, he finds Seol at his doorstep, holding onto Shaggy D who she's come to try and convince Se Joo to adopt. Se Joo's not buying it and instead calls her a stalker and tells her to leave. She's hurt, but she leaves and when she gets to a Subway store, she looks in and via flashback we see that the first time she'd met Se Joo was back when he was way younger and he'd come to the shop, bought coffee and a sandwich and worked on his novel all night. Her coworker had called him homeless but Seol had replied to the contrary: Se Joo was an aspiring writer.
10. Seol saves the day and Se Joo finally connects some of the dots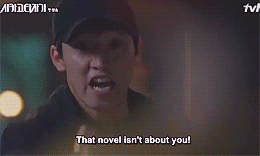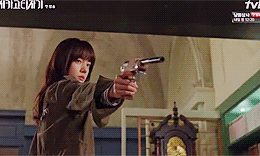 Seol tries to leave but Shaggy D takes off running and she follows him. Back at Se Joo's house, his stalker finally makes himself known, and it's a young man, who's been killing others based on his fixation and belief that he's following Se Joo's laid down orders in his book. The killer though is pissed that Se Joo kills off the killer in his books and believes that Se Joo betrayed him. The two of them engage in a scuffle for the killer's gun. But the killer gets to the gun first and the light flickers out. There's a gunshot, but when the light comes back on, Se Joo's perfectly fine and the killer has his hands up in the air as he faces Seol who has him at gunpoint. Seol's scornful that the killer believes that Se Joo ruined his life, and she states that only an idiot will let a novel ruin his life. It's the killer's own fault for ruining his own life. As she speaks, we cut to Bang Jin informing her friends that Seol had trained as an Olympic shooter, but she quit because every time she picked up a gun, she saw visions of her past self shooting someone. Even as she says so, we cut back to Se Joo who finally connects the dots as he sees Seol holding a gun, that the revolutionary from his "dreams" is the smack dab image of Seol.
Character I wanted to bitchslap: 
It's the first episode so nobody at the moment.
Headache inducing moment: 
The first episode so none as well.
Alcohol Rep: 
This episode's a Sidecar. One, because like I said early, 1930's bring to mind prohibition and speakeasies and what drink to best capture the spirit of this episode like one of the most popular prohibition cocktails ever. Because this pilot episode for Chicago Typewriter has given us the danger, the feeling of there being something way beyond the surface (I'm talking the creepy typewriter, the creepy painting on the wall and the strange man in the dark, the third companion to our tale whom we haven't met yet), the perfect juxtaposition of sweetness and tart that is blended so well together that it's not shocking to have Seol cooing one minute at the dog and then pulling out a gun on the serial killer who was about to kill Se Joon, in the next. And might I say bravo to Lim Soo Jung. She sold me well on her Seol who's terrifying in a I'll crush all who dare insult my oppa way, taking it down a couple of notches to Seol, the besotted fan who wants to make a good impression on her writer crush, then she gives us heartbreak when Se Joo tells her to stay away, and then brings us right back up with her chilling efficiency in that final shot. That range is stunning to see and paired against Yoo Ah In's mega powerhouse performance confirms that this show is going to be a thrill to watch.